Phil Chang
Arthur Ou
Eduardo Sarabia
Anna Sew Hoy
Temporary bookshop and exhibition
July 21 — August 25, 2011
Reception: Thursday, July 21, 6-8pm
Organized by Textfield, Inc.
Creatures of Comfort New York is pleased to present
No More Reality
, a temporary bookshop and exhibition organized by Textfield, Inc. The bookshop and exhibition will take place in Creatures of Comfort's adjacent project space at
205 Mulberry St
.
In conjunction with the bookshop, which will feature current and archived titles from Textfield Distribution, there will be an exhibition of work by artists that Jonathan Maghen has collaborated with through Textfield to realize various publishing projects. The exhibition will feature the works of Phil Chang, Arthur Ou, Eduardo Sarabia, and Anna Sew Hoy.
The bookshop and exhibition title have been appropriated from the Philippe Parreno work, No More Reality (the demonstration), 1991, which is a four-minute video of children demonstrating, and chanting the slogan and title ("No More Reality").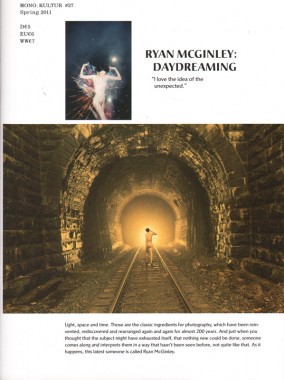 Mono.Kultur 27, Ryan McGinley
Softcover, 44 pp., offset 4/4, 150 x 200 mm
Edition of 5000
ISSN 1861-7085
Published by Mono.Kultur
$10.00 · out of stock
Light, space and time. Those are the classic ingredients for photography, which have been reinvented, rediscovered and rearranged again and again for almost 200 years. And just when you thought that the subject might have exhausted itself, that nothing new could be done, someone comes along and interprets them in a way that hasn't been seen before, not quite like that. As it happens, this latest someone is called Ryan McGinley.
Ryan McGinley's steep ascent within the world of photography appears almost as effortless as his images: Born in 1977 in New Jersey, he moved to New York in 1996 to study graphic design at Parsons School of Design, where almost by accident he discovered his love for photography. Incessantly shooting his friends and surroundings, McGinley inadvertently documented the microcosm of youth culture in New York at the turn of the millennium in a body of work that stood out for its energy and optimism, despite the grit and rawness of the images — a style that should later draw comparisons to the work of Nan Goldin, Larry Clark and Robert Frank. In the meantime, McGinley befriended a group of local artists and creative types — among them his close friends Dan Colen and the late Dash Snow — that would soon be hyped as a 'new movement' by the press, a label based more on the excessive lifestyle the three had in common than their actual and quite disparate work.
And so for the past ten years, McGinley has continuously been one step ahead, and is already taking the next corner of his young career — like the teenagers in his images, like youth itself, always on the run, always looking for the next thing, but always with the unmistakable energy and optimism and lightness that ultimately characterizes all of his work. Because no one these days sculpts light, space and time quite in the same way as Ryan McGinley.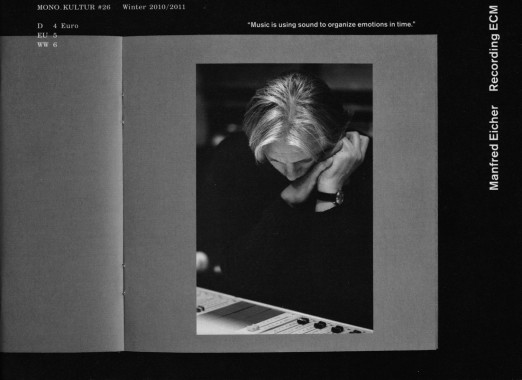 Mono.Kultur 26, Manfred Eicher — Recording ECM
Softcover, 42 pp., offset 1/1, 200 x 150 mm
Edition of 5000
ISSN 1861-7085
Published by Mono.Kultur
$9.00 · out of stock
Born in 1943 in southern Germany, Manfred Eicher dedicated his life early on to music, learning violin as a child, and studying double bass and classical music at the Academy in Berlin. On parallel tracks, he pursued an equally traditional self-education in jazz: through relatives in America, records bought in G.I. stores,
The Voice of America
, listening to Bill Evans at the Village Vanguard, playing double bass in German jazz bands and with visiting musicians including Marion Brown, Leo Smith and Paul Bley.
In 1969, a meeting with the American jazz pianist and composer Mal Waldron led to Eicher's first impromptu production and official release, Free at Last. The immediate success of the record beckoned for more, encouraging Eicher to move backstage and from then on to dedicate his life to finding and producing new music rather than performing. On the outskirts of Munich, with little financial backing, less strategy and no experience in production or managing a record label, Manfred Eicher launched ECM Records as a platform for jazz, a primarily American phenomenon on its wane.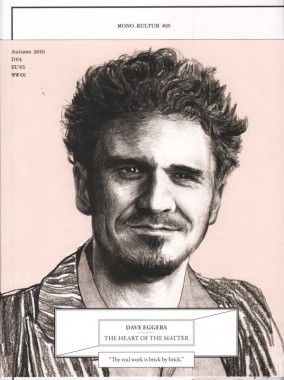 Mono.Kultur 25, Dave Eggers
Poster and wrap-around cover, offset 3/3, 150 x 200 mm [700 x 1000 mm unfolded]
Edition of 5000
ISSN 1861-7085
Published by Mono.Kultur
$9.00 ·
Dave Eggers is a busy man: not only an appraised author since his biographic debut novel 'A Heartbreaking Work of Staggering Genius', Eggers also founded the highly successful literary magazine The Believer, single-handedly revived the short story with his publishing imprint McSweeney's, founded permanent writing workshops for disadvantaged youth all across America, and recently scripted the acclaimed Hollywood productions 'Away We Go' by Sam Mendes and 'Where the Wild Things Are' by Spike Jonze. In short: Eggers is the man who will leave no stone unturned to lure you back to the printed page. His unique tone of writing provides the perfect soundtrack to the confusion and disillusionment of his generation, oscillating wildly between hyperactive optimism and lethargic melancholy. With mono.kultur, Dave Eggers talked about the rendez-vous of fiction and life, how to be political on eye level and why there's never been a better time for literature than now.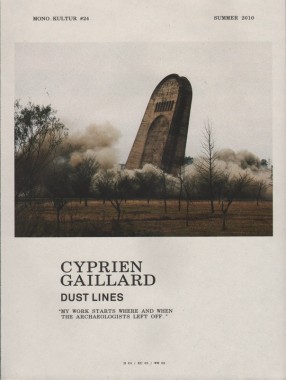 Mono.Kultur 24, Cyprien Gaillard
Softcover, 48 pp., offset 4/4, 150 x 200 mm
Edition of 5000
ISSN 1861-7085
Published by Mono.Kultur
$9.00 ·
It was late January when Cyprien Gaillard arrived, the time of year when the city is cold and grey. Yet the weather could not dampen his enthusiasm for urban exploration. He could hardly wait to wrap up the installation of his exhibition at the Wexner Center for the Arts to see Columbus, the state capital of Ohio. In line with his artistic interests in the contradictions of our contemporary landscapes, his list of must-sees included structures and places that others would rather ignore, and sites where contemporary claims to history have given rise to surprising visual manifestations.
We had started the day with a drive-by tour of fraternity and sorority houses — a staple of any North American university campus. Equipped with a Polaroid camera, Cyprien Gaillard began to survey the facades: Clustered together in an area of old, tree-lined streets, the architecture borrowed liberally from various periods and styles: Lily-white, Greco-Roman temple fronts alternated with Colonial-style brick facades, Tudor half-timber and 1960s austerity. The buildings laid bare the friction between the grandiloquent desires of the past and the rather more mundane present. Just as we were about to leave, a handful of student revellers emerged from one of the fraternities with beer cans in hand and posed for a photograph in the brisk morning air.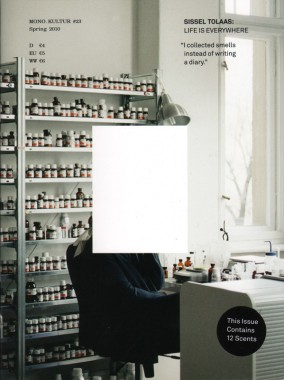 Mono.Kultur 23, Sissel Tolaas
Softcover, 44 pp., offset 4/1, 150 x 200 mm
Edition of 5000
ISSN 1861-7085
Published by Mono.Kultur
$9.00 ·
Mono.Kultur 23 features Norwegian scientist and artist Sissel Tolaas who has dedicated her life and work to the world of smells. And what an issue it's going to be — Mono.Kultur 23 contains no visual imagery but clears the page for our most primary sense: the magazine is impregnated with 12 scents curated by Sissel Tolaas. And we're not talking about perfumes either, but what Tolaas would coin 'difficult smells'. With a special technique called microencapsulation, the scents are literally printed into the magazine — you rub the paper to release them.
Meanwhile, Sissel Tolaas is a phenonemon in herself: born and raised between Norway and Iceland, with degrees from Scandinavia, Poland and Russia in sciences, chemistry and fine arts, Tolaas has become an expert on everything related to scents, odours, smells. She is a professor at Harvard Universiy for invisible communication, while working on hospital and research projects as well as for commercial clients; while exhibiting the results of her research in museums such as the MoMA New York, the National Musem of Beijing or the Hamburger Bahnhof in Berlin. A vibrant and determined character with a unique expertise and biography, Sissel Tolaas is everything we could have hoped for in our forthcoming issue.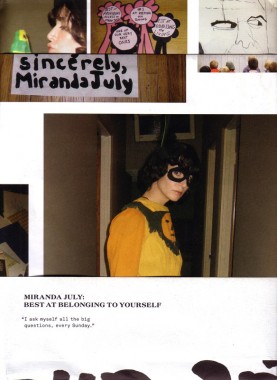 Mono.Kultur 16, Miranda July
Softcover, 16 pp. + poster, offset 4/1, 140 x 200 mm
Edition of 5000
ISSN 1861-7085
Published by Mono.Kultur
out of print
July does not have any art school or professional training — but nor is she wholly self-taught, having learned from and alongside an improvised network of artists, musicians, and writers she has worked with over the last fifteen years. After dropping out of college, July moved to Portland, where she lived for the next decade. She began performing spoken-word pieces at rock clubs; gradually, she transitioned into alternative art spaces, telling ever more complex stories that integrated audience participation and visuals ranging from slide shows to digital video.
During this time, she also founded Joanie 4 Jackie (formerly Big Miss Moviola). Joanie 4 Jackie was a non-commercial distribution system for women video-makers in the pre-YouTube mid-1990s. Any woman could submit a video short and July would put it onto a compilation tape with nine other videos; she then re-circulated these new 'chain letter' tapes so each video-maker could see what others were making. Joanie 4 Jackie was an explicitly feminist project, stemming from the anti-consumerist ethos of third wave feminism. Feminist concerns are also evident in July's early short video works, which explored mother/daughter dynamics, voyeurism, and female spectatorship. In her videos The Amateurist and Nest of Tens, her characters hunt for or establish patterns, imposing their own personal systems of control onto the bewildering world around them. She extended these themes of unexpected longing and loss in Me and You, her short stories, and her recent performances.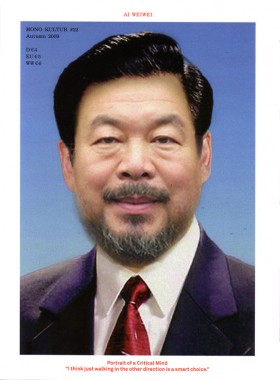 Mono.Kultur 22, Ai Weiwei
Softcover, 40 pp. + poster, offset 4/1, 140 x 200 mm
Edition of 5000
ISSN 1861-7085
Published by Mono.Kultur
$9.00 · out of stock
Ai Weiwei grew up under horrible conditions, living literally underground in a burrow in the Chinese regions of Manchuria and Xinjiang. Born in 1957 in Beijing, Ai Weiwei was the son of Ai Qing, a renowned poet denounced by the Chinese Communist Party and during the Cultural Revolution forced into exile in a labour camp. Under strong political control, his father had to clean public toilets.
Printed Matter, Inc. presents the fourth annual NY Art Book Fair, October 2-4 at P.S.1 Contemporary Art Center, Long Island City, Queens. The Fair previews on the evening of Thursday, October 1, followed by a Benefit. Admission to the fair is free.
The Fair hosts over 200 international presses, booksellers, antiquarian dealers, and independent artist/publishers presenting a diverse range of the best in contemporary art publications.
P.S.1 Contemporary Art Center
22-25 Jackson Ave at the intersection of 46th Ave
Long Island City, NY 11101
Friday/Saturday, October 2 and 3, 2009, 11am-7pm
Sunday, October 4, 2009, 11am-5pm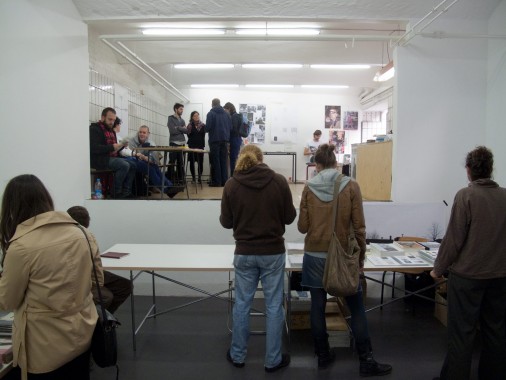 Unter dem Motto. One Day Self Publishing Fair
Motto
is proud to invite you to the event "Unter dem Motto — One Day Self Publishing Fair", organized in occasion of a weekend dedicated to art publications in Berlin. On Saturday, September 5th, 60 publishers coming from 18 countries, selected by
Nieves
,
Rollo Press
and
Motto
, will fill the spaces of Motto bookshop and Chert gallery with their productions. This one-day event presents an eclectic mix offering a careful overview on the importance and constant growth of autonomous publishing nowadays, from home-printed zines to publications by renowned institutions. 40+ booths will give the oportunity to the audience to meet the publishers and browse titles in a friendly athmosphere.
"Unter dem Motto" is organized in parallel of the presentation of the newly acquired exhibition "KIOSK – Modes of multiplication" on Thursday, September the 3rd, at Staatliche Kunstbibliothek Berlin and the Art Books fair: "Miss Read", organized by KW Institute for Contemporary Art, from September 4th to 6th.
Unter dem Motto
Saturday, September 5th
12.00 am — 12.00 pm
Motto/Chert
Skalitzer Str. 68
10997 Berlin
U1 Schlesisches Tor
Tel: +49 30 75442119
Mono.Kultur 21, Tilda Swinton
Softcover, 32 pp., offset 4/1, 140 x 200 mm
Edition of 5000
ISSN 1861-7085
Published by Mono.Kultur
$9.00 ·
"The honest truth about me is that it's really a mistake me being a performer at all."
—Tilda Swinton
Mono.Kultur 20, Dries van Noten
Softcover, 40 pp., offset 4/1, 140 x 200 mm
Edition of 5000
ISSN 1861-7085
Published by Mono.Kultur
$9.00 · out of stock
The conversation with Dries van Noten took place in a setting reminiscent of an old Flemish still life painting: at a very long table prepared for lunch in the company's renovated warehouse in Antwerp, in the historic part of the harbour once built by Napoleon.
Mono.Kultur 19, Michael Ballhaus
Softcover, 32 pp., offset 4/1, 140 x 200 mm
Edition of 5000
ISSN 1861-7085
Published by Mono.Kultur
$8.00 ·
In 2007, Ballhaus announced his retirement from Hollywood after 47 years and more than one hundred films, which turned his eye for light and spaces, his sense for evocative and moving pictures into a legend. He grew up as part of his parent's theatre in Bavaria, completed a classical photographer's training and got into German television in the 60s, a time of change. Young filmmakers such as Hans W. Geißendörfer and Fassbinder had declared the old cinema dead and were creating new material, new faces and new pictures whose depth Ballhaus brought into focus from behind the lens.