Phil Chang
Arthur Ou
Eduardo Sarabia
Anna Sew Hoy
Temporary bookshop and exhibition
July 21 — August 25, 2011
Reception: Thursday, July 21, 6-8pm
Organized by Textfield, Inc.
Creatures of Comfort New York is pleased to present
No More Reality
, a temporary bookshop and exhibition organized by Textfield, Inc. The bookshop and exhibition will take place in Creatures of Comfort's adjacent project space at
205 Mulberry St
.
In conjunction with the bookshop, which will feature current and archived titles from Textfield Distribution, there will be an exhibition of work by artists that Jonathan Maghen has collaborated with through Textfield to realize various publishing projects. The exhibition will feature the works of Phil Chang, Arthur Ou, Eduardo Sarabia, and Anna Sew Hoy.
The bookshop and exhibition title have been appropriated from the Philippe Parreno work, No More Reality (the demonstration), 1991, which is a four-minute video of children demonstrating, and chanting the slogan and title ("No More Reality").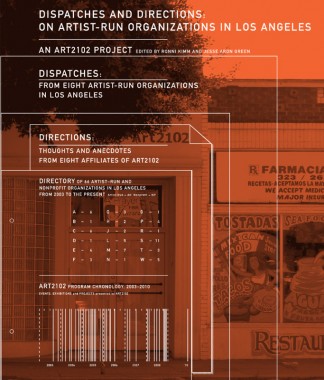 Dispatches and Directions: On Artist-Run Organizations in Los Angeles
Edited by Ronni Kimm and Jesse Aron Green
Softcover, 160 pp., offset 2/2, 9 x 9 inches [24 x 36 inches unfolded]
4 part book + poster
Edition of 500
ISBN 978-0-615-39970-6
Published by ART2102
$20.00 · out of stock
Over the past several years ART2102 has acted as a platform for artists and curators in Los Angeles to realize their projects and exhibitions. From its space in Boyle Heights, ART2102 hosted a vibrant program known for its open cultural discourse and flexibility of ideas, and for engaging both local and international artists at various stages in their careers. Gradually, ART2102 moved away from this physical site as its programming and initiatives engaged with the large network of other artists-run spaces across Los Angeles and Southern California.
Dispatches and Directions, the final publication and project of ART2102, does not simply document this history, but also emulates the organization's role as a platform and a network by spotlighting a number of the artists-run collaborations that are currently active in Los Angeles, and that will continue to thrive as ART2102 recedes. The publication not only provides a space in which these organizations can describe their work, but will also look at the legacy of ART2102 in light of the diverse range of programming emulated by these groups.
The publication, edited by Ronni Kimm and Jesse Aron Green, features contributions from various artist-run projects, including, Artist Curated Project, ESL, Genesis Project, Los Angeles, MATERIAL, Monte Vista, Slab, Telic Arts Exchange, Wildness. Also included are thoughts and anecdotes from Kate Fowle, Rika Hiro, Songmi Huff, Thomas Lawson, Paul McCarthy, Yoshua Okon, Renaud Proch and Erlea Maneros Zabala; an essay by Sarah Lehrer-Graiwer; a directory of over 60 artist-run and non profit organizations; and a specially commissioned "Star Chart" to help navigate the scene, by artist Jim Skuldt. The publication was designed in collaboration with Willem Henri Lucas.