Phil Chang
Arthur Ou
Eduardo Sarabia
Anna Sew Hoy
Temporary bookshop and exhibition
July 21 — August 25, 2011
Reception: Thursday, July 21, 6-8pm
Organized by Textfield, Inc.
Creatures of Comfort New York is pleased to present
No More Reality
, a temporary bookshop and exhibition organized by Textfield, Inc. The bookshop and exhibition will take place in Creatures of Comfort's adjacent project space at
205 Mulberry St
.
In conjunction with the bookshop, which will feature current and archived titles from Textfield Distribution, there will be an exhibition of work by artists that Jonathan Maghen has collaborated with through Textfield to realize various publishing projects. The exhibition will feature the works of Phil Chang, Arthur Ou, Eduardo Sarabia, and Anna Sew Hoy.
The bookshop and exhibition title have been appropriated from the Philippe Parreno work, No More Reality (the demonstration), 1991, which is a four-minute video of children demonstrating, and chanting the slogan and title ("No More Reality").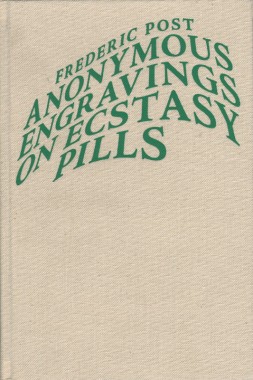 Frédéric Post, Anonymous Engravings on Ecstasy Pills
Hardcover, 544 pp., offset 1/1, 154 x 232 mm
Edition of 500
ISBN 978-2-940409-02-0
Published by Boabooks
$68.00 · add to cart
The patterns used in
Anonymous Engravings on Ecstasy Pills
were designed by unknown people who abandoned them. In this book of drawings, Frédéric Post offers a piece of research worthy of a modern-times archaeologist. He collected and re-created these figures, conferring thus value to an underground iconography of over 500 signs.
The classification of the drawings into three groups (figures, typography, symbols) was carried out with Izet Sheshivari. The collection shows elements of a visual folklore that hints at popular figures. The book implicitly describes our societies' ambiguities: "Nowadays, with drug use, we want to experiment this unconstrained pleasure, disrupt the humdrum routine, make love longer; we want to party even though we are tired (…). At the end of the day, this is in line with the whole idea of work, profitability and performance". Is ecstasy therefore an excessive metaphor of the market economy?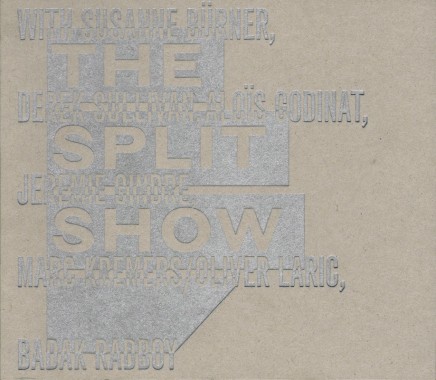 The Split Show
Hardcover, 144 pp., offset 4/1, 230 x 200 mm
Edition of 450
ISBN 978-2-940409-18-1
Published by Boabooks
$38.00 · add to cart
A wall-less group show
Publishing a book is in many ways similar to curating a show. The Split Show is the outcome in this idea — a group artists book. The basic idea was to ask artists to create a recto/verso 720 x 1020 mm poster. Once folded, this format becomes a 24-page 230 x 200 mm folio.