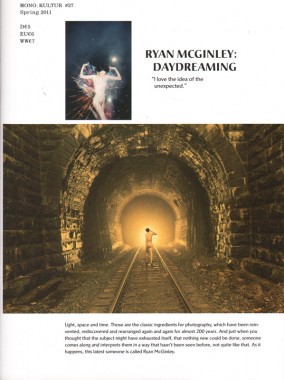 Mono.Kultur 27, Ryan McGinley
Softcover, 44 pp., offset 4/4, 150 x 200 mm
Edition of 5000
ISSN 1861-7085
Published by Mono.Kultur
$10.00 · out of stock
Light, space and time. Those are the classic ingredients for photography, which have been reinvented, rediscovered and rearranged again and again for almost 200 years. And just when you thought that the subject might have exhausted itself, that nothing new could be done, someone comes along and interprets them in a way that hasn't been seen before, not quite like that. As it happens, this latest someone is called Ryan McGinley.
Ryan McGinley's steep ascent within the world of photography appears almost as effortless as his images: Born in 1977 in New Jersey, he moved to New York in 1996 to study graphic design at Parsons School of Design, where almost by accident he discovered his love for photography. Incessantly shooting his friends and surroundings, McGinley inadvertently documented the microcosm of youth culture in New York at the turn of the millennium in a body of work that stood out for its energy and optimism, despite the grit and rawness of the images — a style that should later draw comparisons to the work of Nan Goldin, Larry Clark and Robert Frank. In the meantime, McGinley befriended a group of local artists and creative types — among them his close friends Dan Colen and the late Dash Snow — that would soon be hyped as a 'new movement' by the press, a label based more on the excessive lifestyle the three had in common than their actual and quite disparate work.
And so for the past ten years, McGinley has continuously been one step ahead, and is already taking the next corner of his young career — like the teenagers in his images, like youth itself, always on the run, always looking for the next thing, but always with the unmistakable energy and optimism and lightness that ultimately characterizes all of his work. Because no one these days sculpts light, space and time quite in the same way as Ryan McGinley.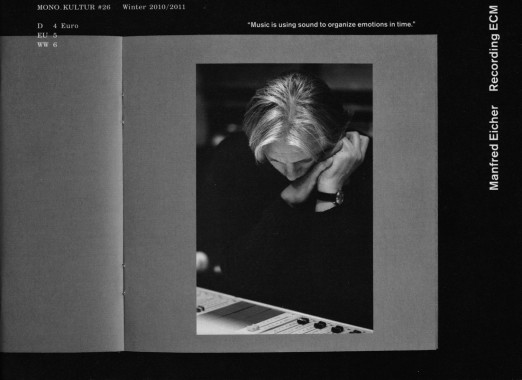 Mono.Kultur 26, Manfred Eicher — Recording ECM
Softcover, 42 pp., offset 1/1, 200 x 150 mm
Edition of 5000
ISSN 1861-7085
Published by Mono.Kultur
$9.00 · out of stock
Born in 1943 in southern Germany, Manfred Eicher dedicated his life early on to music, learning violin as a child, and studying double bass and classical music at the Academy in Berlin. On parallel tracks, he pursued an equally traditional self-education in jazz: through relatives in America, records bought in G.I. stores,
The Voice of America
, listening to Bill Evans at the Village Vanguard, playing double bass in German jazz bands and with visiting musicians including Marion Brown, Leo Smith and Paul Bley.
In 1969, a meeting with the American jazz pianist and composer Mal Waldron led to Eicher's first impromptu production and official release, Free at Last. The immediate success of the record beckoned for more, encouraging Eicher to move backstage and from then on to dedicate his life to finding and producing new music rather than performing. On the outskirts of Munich, with little financial backing, less strategy and no experience in production or managing a record label, Manfred Eicher launched ECM Records as a platform for jazz, a primarily American phenomenon on its wane.