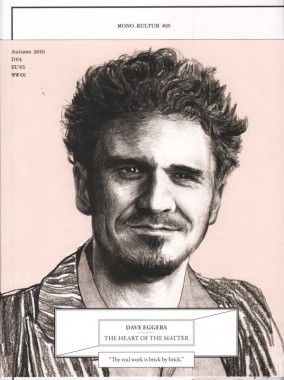 Mono.Kultur 25, Dave Eggers
Poster and wrap-around cover, offset 3/3, 150 x 200 mm [700 x 1000 mm unfolded]
Edition of 5000
ISSN 1861-7085
Published by Mono.Kultur
$9.00 ·
Dave Eggers is a busy man: not only an appraised author since his biographic debut novel 'A Heartbreaking Work of Staggering Genius', Eggers also founded the highly successful literary magazine The Believer, single-handedly revived the short story with his publishing imprint McSweeney's, founded permanent writing workshops for disadvantaged youth all across America, and recently scripted the acclaimed Hollywood productions 'Away We Go' by Sam Mendes and 'Where the Wild Things Are' by Spike Jonze. In short: Eggers is the man who will leave no stone unturned to lure you back to the printed page. His unique tone of writing provides the perfect soundtrack to the confusion and disillusionment of his generation, oscillating wildly between hyperactive optimism and lethargic melancholy. With mono.kultur, Dave Eggers talked about the rendez-vous of fiction and life, how to be political on eye level and why there's never been a better time for literature than now.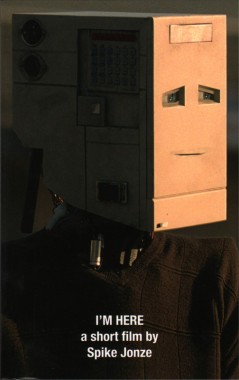 Spike Jonze, I'm Here
Softcover, 48 pp., offset 4/4, 112 x 178 mm
Edition of 1000
ISBN 978-3-905714-77-7
Published by Nieves
$18.00 ·
Spike Jonze's new half-hour short film titled I'm Here is a robot love story celebrating a life enriched by creativity. The movie is set in contemporary Los Angeles, where life moves at a seemingly regular pace with the exception of a certain amount of robot residents who live among the population. A male robot librarian lives a solitary and methodical life — devoid of creativity, joy and passion — until he meets an adventurous and free spirited female robot.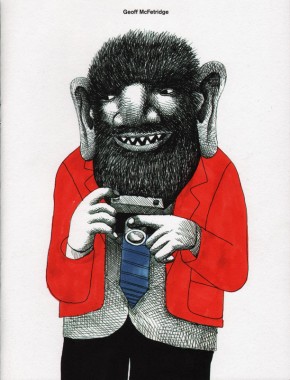 Geoff McFetridge, Recent Work
Softcover, 16 pp., offset 4/4, 195 x 255 mm
Edition of 1000
ISBN 978-3-905714-74-6
Published by Nieves
out of print
This book is a small collection of some of the work I have done for Spike Jonze's film adaptation of the book Where the Wild Things Are.