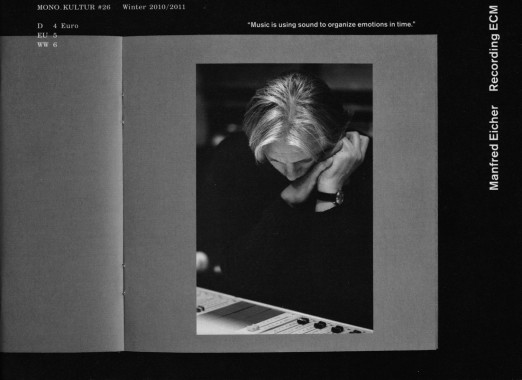 Mono.Kultur 26, Manfred Eicher — Recording ECM
Softcover, 42 pp., offset 1/1, 200 x 150 mm
Edition of 5000
ISSN 1861-7085
Published by Mono.Kultur
$9.00 · out of stock
Born in 1943 in southern Germany, Manfred Eicher dedicated his life early on to music, learning violin as a child, and studying double bass and classical music at the Academy in Berlin. On parallel tracks, he pursued an equally traditional self-education in jazz: through relatives in America, records bought in G.I. stores,
The Voice of America
, listening to Bill Evans at the Village Vanguard, playing double bass in German jazz bands and with visiting musicians including Marion Brown, Leo Smith and Paul Bley.
In 1969, a meeting with the American jazz pianist and composer Mal Waldron led to Eicher's first impromptu production and official release, Free at Last. The immediate success of the record beckoned for more, encouraging Eicher to move backstage and from then on to dedicate his life to finding and producing new music rather than performing. On the outskirts of Munich, with little financial backing, less strategy and no experience in production or managing a record label, Manfred Eicher launched ECM Records as a platform for jazz, a primarily American phenomenon on its wane.