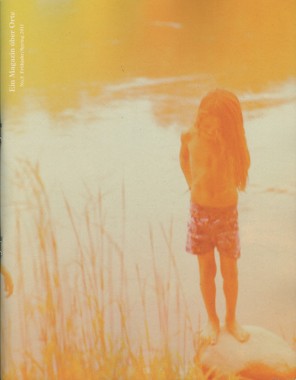 Ein Magazin über Orte 8, Paradise
Softcover, 84 pp., offset 4/4, 210 x 270 mm
Edition of 1000
ISSN 1866-2331
Published by Ein Magazin über Orte
$18.00 ·
Ein Magazin über Orte (A magazine about places) is published twice a year. It deals with a different location in every issue. The magazine collects works of various authors in the form of photographs, drawings and texts.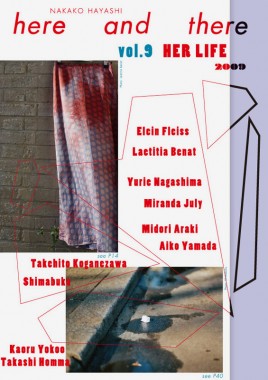 Nakako Hayashi, Here and There 9
Softcover, 56 pp., offset 4/duotone, 210 x 297 mm
Edition of 1000
ISBN 978-3-905714-69-2
Published by Nieves
$20.00 ·
The theme of the nineth issue of
Here and There
is HER LIFE. It deals with the various factors that make up the many waves in a woman's life, such as working, becoming pregnant, giving birth. The colorful stories told by Elein Fleiss, Laetitia Bena, Yurie Nagashima, Miranda July, Midori Araki and Aiko Yamada, reflect each of their lives.
Nakako Hayashi writes: "There are various lives, various moments and various emotions. I wish to capture the ripples of emotion in our daily lives as seeds, right before they turn into fluff and float away. I wish to keep observing what grows from there. I guess this may be what I want to do with Here and There."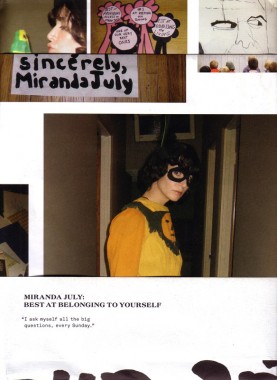 Mono.Kultur 16, Miranda July
Softcover, 16 pp. + poster, offset 4/1, 140 x 200 mm
Edition of 5000
ISSN 1861-7085
Published by Mono.Kultur
out of print
July does not have any art school or professional training — but nor is she wholly self-taught, having learned from and alongside an improvised network of artists, musicians, and writers she has worked with over the last fifteen years. After dropping out of college, July moved to Portland, where she lived for the next decade. She began performing spoken-word pieces at rock clubs; gradually, she transitioned into alternative art spaces, telling ever more complex stories that integrated audience participation and visuals ranging from slide shows to digital video.
During this time, she also founded Joanie 4 Jackie (formerly Big Miss Moviola). Joanie 4 Jackie was a non-commercial distribution system for women video-makers in the pre-YouTube mid-1990s. Any woman could submit a video short and July would put it onto a compilation tape with nine other videos; she then re-circulated these new 'chain letter' tapes so each video-maker could see what others were making. Joanie 4 Jackie was an explicitly feminist project, stemming from the anti-consumerist ethos of third wave feminism. Feminist concerns are also evident in July's early short video works, which explored mother/daughter dynamics, voyeurism, and female spectatorship. In her videos The Amateurist and Nest of Tens, her characters hunt for or establish patterns, imposing their own personal systems of control onto the bewildering world around them. She extended these themes of unexpected longing and loss in Me and You, her short stories, and her recent performances.