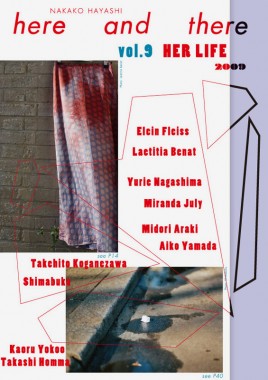 Nakako Hayashi, Here and There 9
Softcover, 56 pp., offset 4/duotone, 210 x 297 mm
Edition of 1000
ISBN 978-3-905714-69-2
Published by Nieves
$20.00 ·
The theme of the nineth issue of
Here and There
is HER LIFE. It deals with the various factors that make up the many waves in a woman's life, such as working, becoming pregnant, giving birth. The colorful stories told by Elein Fleiss, Laetitia Bena, Yurie Nagashima, Miranda July, Midori Araki and Aiko Yamada, reflect each of their lives.
Nakako Hayashi writes: "There are various lives, various moments and various emotions. I wish to capture the ripples of emotion in our daily lives as seeds, right before they turn into fluff and float away. I wish to keep observing what grows from there. I guess this may be what I want to do with Here and There."
Nakako Hayashi, Here and There 5
Softcover, 48 pp., offset 4/1, 210 x 297 mm
Edition of 1000
Published by Nieves
out of print
Elein Fleiss,
Purple Journal's
editor-in-chief, speaks of Nakako Hayashi and her magazine
Here and There
: When I met Nakako Hayashi, she was still working for
Hanatsubaki
magazine. Then, in 2001 she decided to go on her own and started
Here and There
in the spring of 2002. The first issue came out in March of that year, and the moment I first saw it remains in my memory as an important event in the world of independent magazines.
Here and There is the magazine of one person. The fact that Nakako's name is credited as the author on the cover is not an egocentric statement but reveals the spirit in which she makes it. Some people make films, others write books or make artworks, and Nakako makes a magazine. It is her personal work and in that sense she makes it in her own way, unlike most magazines on the planet. It also means she is free from capitalistic rules, from imposed trends, from the industry of fashion. Instead, she is free to follow her desire and to link the magazine with her personal life.