P & Co., Joan
Newspaper, 16 pp., web offset 1/1, 11 x 17 inches [17 x 22 inches unfolded]
Edition of 500
Published by P & Co.
free* ·
*free copy with each order
P & Co. is a community broadsheet published biannually and co-edited by Aram Moshayedi, Carter Mull, and Jesse Willenbring.
P & Co., Sara & Gerald
Newspaper, 12 pp., web offset 1/1, 11 x 17 inches [17 x 22 inches unfolded]
Edition of 500
Published by P & Co.
out of print
P & Co. is committed to the form of the community broadsheet as a site for aesthetic discourse and informed cultural analysis.
Published on a biannual basis, each issue is loosely organized around a personality of historical significance and provides the occasion for a network of affiliates from diverse critical and artistic backgrounds to explore innovative modes of study.
With an emphasis on the free and uninhibited circulation of images, information and ideas, P & Co. reconsiders the material conditions of newsprint in a cultural sphere characterized by aggregate forms of social media.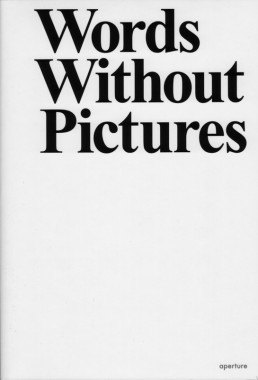 Alex Klein, Words Without Pictures
Softcover, 510 pp., offset 1/1, 5.75 x 8.25 inches
Edition of 2000
ISBN 978-1-5971114-2-3
Published by Aperture/LACMA
$25.00 ·
Words Without Pictures
was originally conceived by curator Charlotte Cotton and artist Alex Klein as a means of creating spaces for discourse around current issues in photography. Every month for a year, beginning in November 2007, an artist, educator, critic or curator was invited to contribute a short unillustrated essay about an aspect of emerging photography. Each piece was available on the Words Without Pictures
website
for one month and was accompanied by a discussion forum focused on its specific topic. Over the course of its month-long "life," each essay received both invited and unsolicited responses from a wide range of interested parties. All of these essays, responses and other provocations are gathered together here. Previously issued as a print-on-demand title, we are pleased to present
Words Without Pictures
to the trade for the first time as part of the
Aperture Ideas
series.