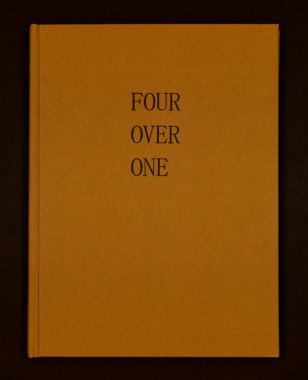 Phil Chang, Four Over One
Hardcover, 64 pp., offset 4/1, 240 x 320 mm
Edition of 500
ISBN 978-087588720-4-9
Published by LACMA
$39.00 ·
In
Four Over One
, the Los Angeles based artist
Phil Chang
employs the format of an artists book to explore ideas of economy and obsolescence. In collaboration with designer Jonathan Maghen,
Four Over One
is structured around Chang's interest in how new outcomes arise from an antagonism between perceived and actual forms of value. The photographs that appear in the book were created using expired photographic materials exposed by an archival book scanner. Through a sparse display of color, black and white, and half-tone photographs, in conjunction with a restrained typographic treatment,
Four Over One
employs an economy of scale in order to consider the roles of abstraction, methods of art production, and modes of distribution in our contemporary culture.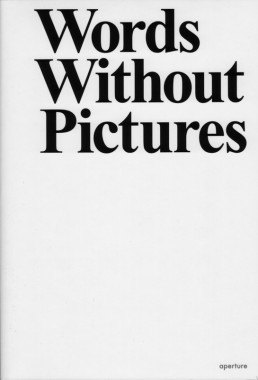 Alex Klein, Words Without Pictures
Softcover, 510 pp., offset 1/1, 5.75 x 8.25 inches
Edition of 2000
ISBN 978-1-5971114-2-3
Published by Aperture/LACMA
$25.00 ·
Words Without Pictures
was originally conceived by curator Charlotte Cotton and artist Alex Klein as a means of creating spaces for discourse around current issues in photography. Every month for a year, beginning in November 2007, an artist, educator, critic or curator was invited to contribute a short unillustrated essay about an aspect of emerging photography. Each piece was available on the Words Without Pictures
website
for one month and was accompanied by a discussion forum focused on its specific topic. Over the course of its month-long "life," each essay received both invited and unsolicited responses from a wide range of interested parties. All of these essays, responses and other provocations are gathered together here. Previously issued as a print-on-demand title, we are pleased to present
Words Without Pictures
to the trade for the first time as part of the
Aperture Ideas
series.
Shannon Ebner, The Sun As Error
Hardcover, 64 pp., offset 4/1, 11 x 14.5 inches
Edition of 1000
ISBN 978-0-87587-200-1
Published by LACMA
$65.00 · out of stock
The Los Angeles based artist Shannon Ebner extends her exploration of photography, sculpture and language in this remarkable book,
The Sun as Error
. In collaboration with Dexter Sinister (design duo David Reinfurt and Stuart Bailey),
The Sun as Error
re-investigates the meaning and language of photographs, creating both an open-ended reading of her practice and also rethinking the idea of an artist's monograph. Far from straightforward, the book interweaves her bodies of work, previously unseen one-off pieces, with the language of technical diagrams, optical illusions, and graphic design. One of the persistent motifs through the book's sequence is an asterisk and, specifically, one imbued with the legacy of the graphic designer Muriel Cooper. As the first design director for MIT Press and the cofounder of the Visible Language Workshop, Cooper's legacy for reorienting and repositioning the direction of an artist's monograph is imaginatively explored in the creative partnership of Dexter Sinister and Shannon Ebner.
Shannon Ebner's work has been shown in exhibitions including Trace at The Whitney Museum of American Art at Altria (2006), The 2006 California Biennial at The Orange County Museum of Art, Uncertain States of America, at The Serpentine Gallery, London (2006), Learn to Read, at the Tate Modern, London (2007), and the 2008 Whitney Biennial at The Whitney Museum of American Art.