P & Co., Joan
Newspaper, 16 pp., web offset 1/1, 11 x 17 inches [17 x 22 inches unfolded]
Edition of 500
Published by P & Co.
free* ·
*free copy with each order
P & Co. is a community broadsheet published biannually and co-edited by Aram Moshayedi, Carter Mull, and Jesse Willenbring.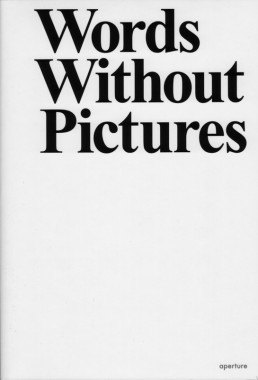 Alex Klein, Words Without Pictures
Softcover, 510 pp., offset 1/1, 5.75 x 8.25 inches
Edition of 2000
ISBN 978-1-5971114-2-3
Published by Aperture/LACMA
$25.00 ·
Words Without Pictures
was originally conceived by curator Charlotte Cotton and artist Alex Klein as a means of creating spaces for discourse around current issues in photography. Every month for a year, beginning in November 2007, an artist, educator, critic or curator was invited to contribute a short unillustrated essay about an aspect of emerging photography. Each piece was available on the Words Without Pictures
website
for one month and was accompanied by a discussion forum focused on its specific topic. Over the course of its month-long "life," each essay received both invited and unsolicited responses from a wide range of interested parties. All of these essays, responses and other provocations are gathered together here. Previously issued as a print-on-demand title, we are pleased to present
Words Without Pictures
to the trade for the first time as part of the
Aperture Ideas
series.
A. L. Steiner, STOP (onestar press)
Softcover, 150 pp., digital 4/1, 140 x 225 mm
Edition of 250
Published by onestar press
$50.00 · order wholesale
STOP onestar press is a poetic visual documentation of the paper manufacturing industry. Divided into three chapters, the book opens with 48 portraits of trees, then documents the fate of these trees as they are cut, piled, hauled and finally pulped in giant factories. The book concludes with an inventory of disposable paper products: bundled paper, cardboard boxes, newspapers, paper cups, paper bags, and, in a self-critiquing gesture, the pages of the book itself.