P & Co., Joan
Newspaper, 16 pp., web offset 1/1, 11 x 17 inches [17 x 22 inches unfolded]
Edition of 500
Published by P & Co.
free* ·
*free copy with each order
P & Co. is a community broadsheet published biannually and co-edited by Aram Moshayedi, Carter Mull, and Jesse Willenbring.
P & Co., Sara & Gerald
Newspaper, 12 pp., web offset 1/1, 11 x 17 inches [17 x 22 inches unfolded]
Edition of 500
Published by P & Co.
out of print
P & Co. is committed to the form of the community broadsheet as a site for aesthetic discourse and informed cultural analysis.
Published on a biannual basis, each issue is loosely organized around a personality of historical significance and provides the occasion for a network of affiliates from diverse critical and artistic backgrounds to explore innovative modes of study.
With an emphasis on the free and uninhibited circulation of images, information and ideas, P & Co. reconsiders the material conditions of newsprint in a cultural sphere characterized by aggregate forms of social media.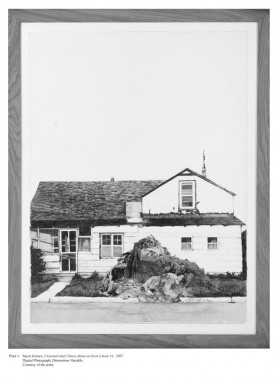 September 17th — October 31st
Reception: Thursday, September 17th, 6:30-8:30pm
Cirrus Gallery
542 S Alameda St
Los Angeles CA 90013
Tuesday through Saturday, 10am-5pm
(213) 680-3473
The Awful Parenthesis is a group exhibition of works by six Los Angeles-based artists. Formed in response to a proposition initiated by Cirrus Gallery, it presents a selection of emerging artists without prior relationship to the space or its history.
Phil Chang
Matt Connors
Sayre Gomez
Nick Kramer
Kim Schoen
Erika Vogt
curated by Aram Moshayedi
The exhibition is organized around a concept of spatial and temporal dislocation developed by Thomas De Quincey in 1823, wherein a disruptive knock at the gate in Shakespeare's Macbeth is described as "the re-establishment of the goings-on of the world in which we live." It is in this moment, De Quincey writes, that we are made profoundly aware of "the awful parenthesis" that had rendered the scene "cut off by an immeasurable gulf from the ordinary tide and succession of human affairs." Brian O'Doherty later used this oft-cited passage as the starting point of his important essay "Context as Content," published in the pages of Artforum in 1976. For O'Doherty, the activities that take place within the institutional frame of the gallery space undergo a suspension in time and space not unlike the stasis allegorized by De Quincey in the preceding century.
The artworks in The Awful Parenthesis engage with conditions of materiality and conceptual bracketing and attempt to redefine the relationships between a visual medium's history and its institutional contexts of display. The approaches represented here investigate the material qualities of images and objects as they relate to architectural and historical specificity; they reveal both inward and outward tendencies toward formal and discursive devices of framing. Each artist's contribution to the exhibition exists within and outside the suspended spaces of viewing, separately renegotiating how space is delineated within both the picture frame and the context in which pictures, as objects, are looked upon.