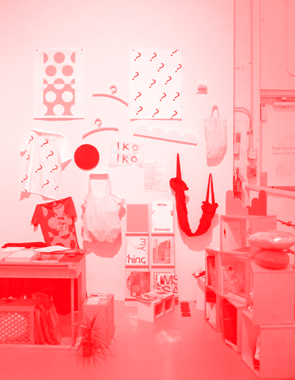 The Geffen Contemporary at MOCA
Printed Matter's Los Angeles Art Book Fair
February 1-3, 2013
Opening: Thursday, January 31, 2013, 6–9pm
IKO IKO
will be participating at
Printed Matter
's first annual
Los Angeles Art Book Fair
, with
WAKA WAKA
book-friendly furniture; a selection of forty books from
Texfield, Inc.
; IKO IKO limited edition screen prints, t-shirts and totes; and a
MATERIAL Press
special edition by artist Michael Bauer.
New York Times Tmagazine.
Hrag Vartanian/Hyperallergic.
Free and open to the public, the Los Angeles Art Book Fair is a unique international event for artists' books, art catalogs, monographs, periodicals and zines presented by more than 220 international presses, booksellers, antiquarians, artists, and independent publishers from twenty countries.
Featured projects include an Homage to Mike Kelley presented by Gagosian, a Larry Clark Pop-Up Shop by BOO-HOORAY, and a stunning new installation by John Armleder with Three Star Books. Fulton Ryder will present publications by John Dogg and Howard Johnson; unique books and Untitled Originals by Richard Prince, and naughty pulp paperbacks.
Zine World is a super-sized subsection of the Los Angeles Art Book Fair, featuring zinesters from home and abroad, together with three zine exhibitions. GSD: Skate Fate till Today begins from Gary Scott Davis' early, ground-breaking zine publishing of the 80s. Zine Masters of the Universe features zines by Mark Gonzales, Ari Marcopoulos, Ray Pettibon, and Dash Snow. Bedwetter and Beyond is a survey of the artist books and zines of Los Angeles-based artist Christopher Russell.
The Los Angeles Art Book Fair is the companion fair to the New York Art Book Fair, held every fall in New York. Over 20,000 artists, book buyers, collectors, dealers, curators, independent publishers, and other enthusiasts attended the New York Art Book Fair in 2012.
HOURS and LOCATION
Opening: Thursday, January 31, 6–9pm
Friday, February 1, 11-5pm
Saturday, February 2, 11-6pm
Sunday, February 3, 12-6pm
The Geffen Contemporary at MOCA
152 North Central Ave
Los Angeles CA 90012
(213) 626-6222
Ginny Cook and Kim Schoen, MATERIAL 3
Softcover, 96 pp. + insert, offset 2/1, 160 x 270 mm
Edition of 500
ISBN 978-0-9801441-2-3
Published by MATERIAL Press
$15.00 ·
MATERIAL exists as a platform for the artist's voice. Each issue brings together a different group of artists who write, as well as a new collaboration with a graphic designer. During the production of this third issue, our designer Zak Jensen put forth the idea of concatenation — the act of linking together, or the state of being joined (
It was caused by an improbable concatenation of circumstances) (there was a connection between eating that pickle and having that nightmare
)
(the joining of hands around the table
).
Concatenation (c.1600, from L.L. concatenatus, pp. of concatenare "to link together," from com- "together"+ catenare, from catena "a chain") seemed an appropriate word for our editorial method. An unlikely assemblage of texts becomes connected through this process; uncanny linkages emerge. Wyeth appears twice. Performances interact. In this issue: voices that duel, voices that parrot, voices that hypothesize, translate, and meditate, voices that speak simultaneously. As Roland Barthes writes, we have assembled these textual events, as "pleasure in pieces; language in pieces; culture in pieces," to build upon one another into something new.*
*Roland Barthes, The Pleasure of the Text, trans. Richard Miller (New York: Hill and Wang, 1975), p. 51
CONTRIBUTORS
Farrah Karapetian, Paul Zelevansky, Renee Petropoulous, Nate Harrison, James Welling, Natalie Häusler, Harold Abramowitz, Shana Lutker Stephanie Taylor, Alice Könitz, Frank Chang, and Emily Mast.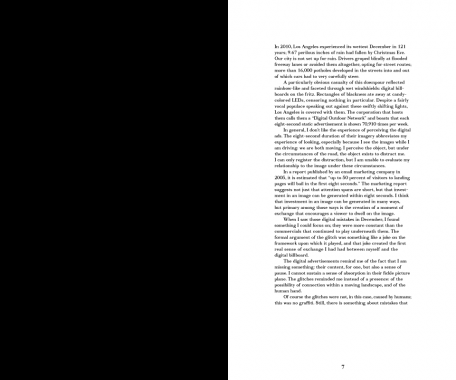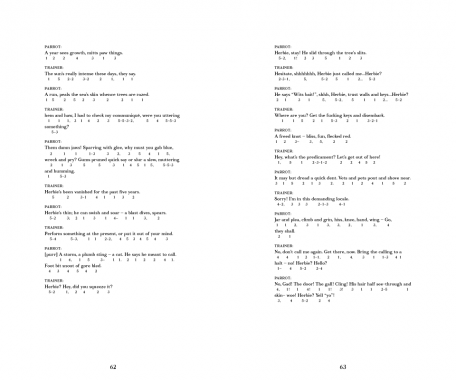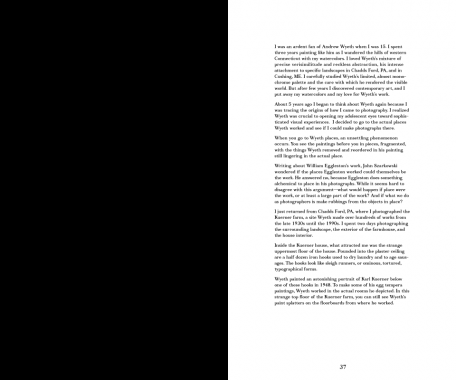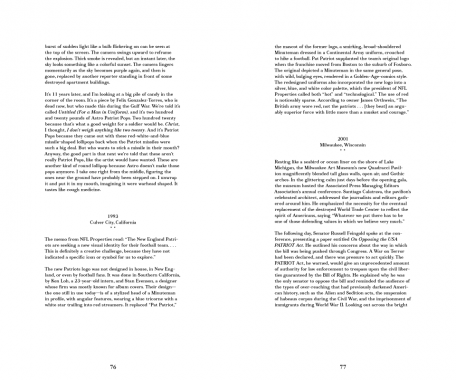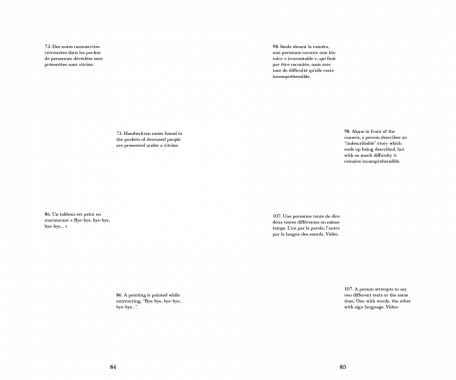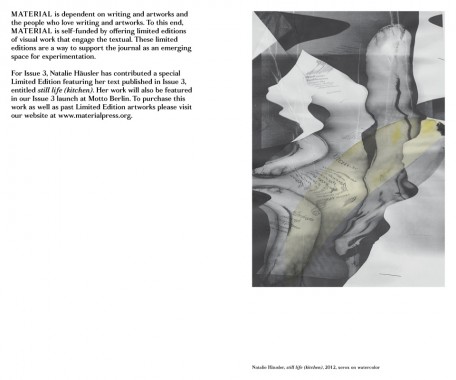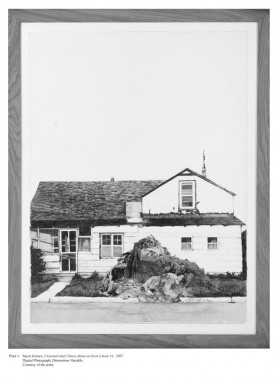 September 17th — October 31st
Reception: Thursday, September 17th, 6:30-8:30pm
Cirrus Gallery
542 S Alameda St
Los Angeles CA 90013
Tuesday through Saturday, 10am-5pm
(213) 680-3473
The Awful Parenthesis is a group exhibition of works by six Los Angeles-based artists. Formed in response to a proposition initiated by Cirrus Gallery, it presents a selection of emerging artists without prior relationship to the space or its history.
Phil Chang
Matt Connors
Sayre Gomez
Nick Kramer
Kim Schoen
Erika Vogt
curated by Aram Moshayedi
The exhibition is organized around a concept of spatial and temporal dislocation developed by Thomas De Quincey in 1823, wherein a disruptive knock at the gate in Shakespeare's Macbeth is described as "the re-establishment of the goings-on of the world in which we live." It is in this moment, De Quincey writes, that we are made profoundly aware of "the awful parenthesis" that had rendered the scene "cut off by an immeasurable gulf from the ordinary tide and succession of human affairs." Brian O'Doherty later used this oft-cited passage as the starting point of his important essay "Context as Content," published in the pages of Artforum in 1976. For O'Doherty, the activities that take place within the institutional frame of the gallery space undergo a suspension in time and space not unlike the stasis allegorized by De Quincey in the preceding century.
The artworks in The Awful Parenthesis engage with conditions of materiality and conceptual bracketing and attempt to redefine the relationships between a visual medium's history and its institutional contexts of display. The approaches represented here investigate the material qualities of images and objects as they relate to architectural and historical specificity; they reveal both inward and outward tendencies toward formal and discursive devices of framing. Each artist's contribution to the exhibition exists within and outside the suspended spaces of viewing, separately renegotiating how space is delineated within both the picture frame and the context in which pictures, as objects, are looked upon.