Phil Chang
Arthur Ou
Eduardo Sarabia
Anna Sew Hoy
Temporary bookshop and exhibition
July 21 — August 25, 2011
Reception: Thursday, July 21, 6-8pm
Organized by Textfield, Inc.
Creatures of Comfort New York is pleased to present
No More Reality
, a temporary bookshop and exhibition organized by Textfield, Inc. The bookshop and exhibition will take place in Creatures of Comfort's adjacent project space at
205 Mulberry St
.
In conjunction with the bookshop, which will feature current and archived titles from Textfield Distribution, there will be an exhibition of work by artists that Jonathan Maghen has collaborated with through Textfield to realize various publishing projects. The exhibition will feature the works of Phil Chang, Arthur Ou, Eduardo Sarabia, and Anna Sew Hoy.
The bookshop and exhibition title have been appropriated from the Philippe Parreno work, No More Reality (the demonstration), 1991, which is a four-minute video of children demonstrating, and chanting the slogan and title ("No More Reality").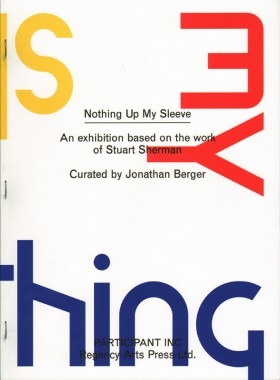 Jonathan Berger, Nothing Up My Sleeve
Softcover, 160 pp., offset 4/1, 8.5 x 11.5 inches
Edition of 1000
ISBN 978-098023-241-7
Published by Regency Arts Press, Participant Inc.
$20.00 ·
Nothing Up My Sleeve: An Exhibition Based on the Work of Stuart Sherman
, is a curator's book co-published with the New York not-for-profit space, Participant Inc. The exhibition, curated by Jonathan Berger, took place at Participant Inc. in the winter of 2010.
Berger paired the work of Stuart Sherman, a brilliant performance artist who died in 2001, with other performers and artists whose work, while not directly affected by Sherman, shares a similar spirit and exploration of authenticity. The book is an extension of the exhibition, composed of entries from each performer/artist included in the show: Matthew Brannon, Carol Bove, James Lee Byars, Vaginal Davis, Harry Houdini, Andy Kaufman, and several others. Reprinted in the book, with new commentary, are two early critical texts about Stuart Sherman's spectacle works, by John Matturri (written in 1978), and Berenice Reynaud (published in issue eight of October art journal, 1979). There are also texts by Lia Gangitano, Jonathan Berger, Molly McGarry, and Mark Bradford.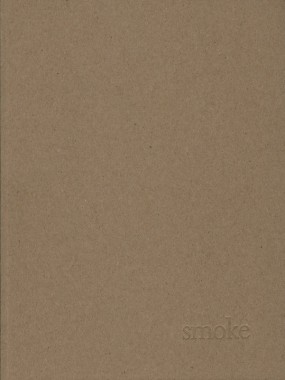 Lutz Bacher, SMOKE (gets in your eyes)
Softcover, 216 pp., offset 1/1, 9 x 12 inches
Edition of 1000
ISBN 978-0-9815449-0-8
Published by Regency Arts Press
$35.00 ·
SMOKE (gets in your eyes)
is the first major artist's book by the influential yet elusive conceptual artist Lutz Bacher.
SMOKE (gets in your eyes) was assembled by Ms. Bacher as a companion to the two exhibitions SPILL (Contemporary Art Museum, St. Louis, September 12, 2008 — January 4, 2009) and MY SECRET LIFE (P.S.1 Contemporary Art Center, Long Island City, Winter 2009).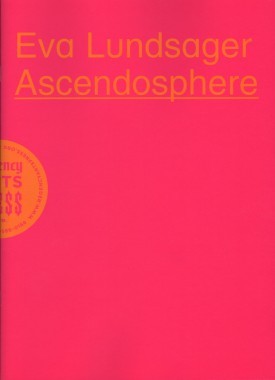 Eva Lundsager, Ascendosphere
Softcover, 20 pp., offset 4/4, 220 x 305 mm
Edition of 500
ISBN 978-0-9815449-6-0
Published by Regency Arts Press
$15.00 ·
Ascendosphere features a series of 19 gouache works on paper by painter Eva Lundsager. Published on the occasion of her solo exhibition at Greenberg Van Doren Gallery.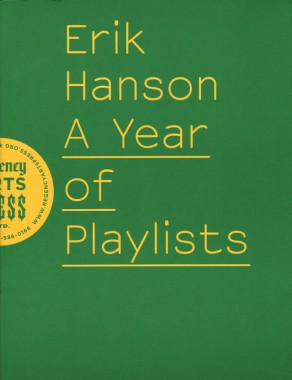 Erik Hanson, A Year of Playlists
Softcover, 14 pp., offset 2/1, 275 x 355 mm
Edition of 1000
ISBN 978-0-9749037-3-6
Published by Regency Arts Press
$15.00 ·
Erik Hanson's A Year of Playlists, twelve monthly drawings from 2007 chronicling Mr. Hanson's playlists with songs rendered as matchbooks, is a scrappy collection of strays, throwaways and disposables, tracking love found, lost, found, lost, found…