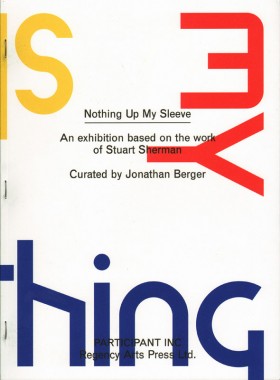 Jonathan Berger, Nothing Up My Sleeve
Softcover, 160 pp., offset 4/1, 8.5 x 11.5 inches
Edition of 1000
ISBN 978-098023-241-7
Published by Regency Arts Press, Participant Inc.
$20.00 ·
Nothing Up My Sleeve: An Exhibition Based on the Work of Stuart Sherman
, is a curator's book co-published with the New York not-for-profit space, Participant Inc. The exhibition, curated by Jonathan Berger, took place at Participant Inc. in the winter of 2010.
Berger paired the work of Stuart Sherman, a brilliant performance artist who died in 2001, with other performers and artists whose work, while not directly affected by Sherman, shares a similar spirit and exploration of authenticity. The book is an extension of the exhibition, composed of entries from each performer/artist included in the show: Matthew Brannon, Carol Bove, James Lee Byars, Vaginal Davis, Harry Houdini, Andy Kaufman, and several others. Reprinted in the book, with new commentary, are two early critical texts about Stuart Sherman's spectacle works, by John Matturri (written in 1978), and Berenice Reynaud (published in issue eight of October art journal, 1979). There are also texts by Lia Gangitano, Jonathan Berger, Molly McGarry, and Mark Bradford.