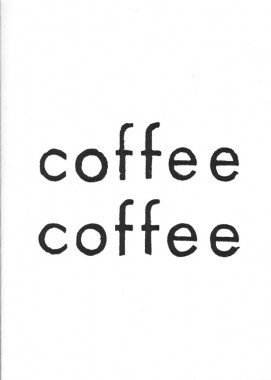 Aram Saroyan, Coffee Coffee
Softcover, 88 pp., offset 1/1, 5 x 7 inches
Edition of 1000
ISBN 978-0-9788697-5-5
Published by Primary Information
$10.00 ·
Infamous artist book by one of the 1960s most controversial poets.
Coffee Coffee
was originally published as a mimeographed edition by Vito Acconci and Bernadette Mayer on their 0 To 9 press in 1967. True to Saroyan's minimalist approach of the time,
Coffee Coffee
's pages contain one word (sometimes 2 and once or twice, 3), each pulling you to the next (revolving door-like). Selections from
Coffee Coffee
appear in the recent anthology
Complete Minimal Poems
(Ugly Duckling Presse) edited by Primary Information co-founder James Hoff; however, this is the first time that this work has appeared in its complete and initial form since 1967.
"In the late Sixties, when I called myself a poet, Aram was the poet I envied. Because you couldn't be sure if he was fooling or if he had really gotten to all there is to get. Because while the rest of us tried to be verbs, like everybody told us to do, he had the nerve to stop at nouns. Because he took a deep breath and willed himself into the self-confidence of naming. Because it wasn't 'nouns,' it was 'noun,' only one noun, because he boiled it all down to one. Because then he let himself go, he let himself stutter, he let the one go and let the one double and go out of focus: while the rest of us ran for our lives all over the place and over the page, his noun shimmered and breathed and trembled and moved-shh! softly, softly-from within."
—Vito Acconci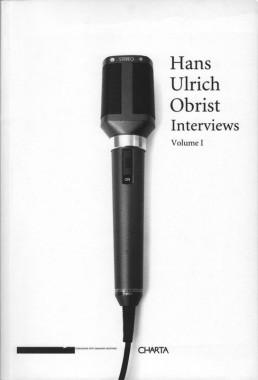 Hans Ulrich Obrist, Interviews Volume I
Softcover, 968 pp., offset 1/1, 140 x 205 mm
Edition of 2000
ISBN 9788881584314
Published by Charta
$59.00 · out of stock
It is not an exaggeration to write that Hans Ulrich Obrist is everywhere, has curated everything and has interviewed everyone. If "peripatetic" is the word most overused to describe him, it is not inappropriate. The Swiss-born, everywhere-based curator and head of the Programme Migrateurs at the Musée d'Art Moderne de la Ville de Paris has an unstoppable wanderlust and a related symptom: his penchant for interviewing anyone and everyone who piques his curiosity, be they artist, scientist, writer, curator, composer, architect, thinker, etc. Since 1993, Obrist has conducted more than 300 interviews, 75 of which are collected here in a selection that respects the cultural and professional diversity of the interviewees. Each interview is introduced by a short text outlining the biography of the interviewee and giving some contextual information on the recording of the interview.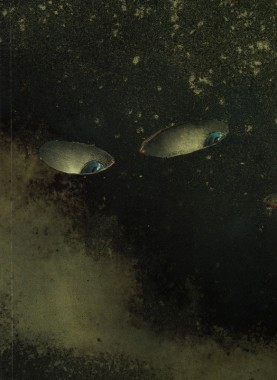 Joseph Mosconi and Rita Gonzalez, Area Sneaks 2
Softcover, 174 pp., offset 4/1, 6.25 x 8.5 inches
Edition of 1000
ISBN 978-0-9802048-1-9
Published by Area Sneaks
$15.00 ·
The historical relationship between art and language has often occasioned lively and compelling work.
Area Sneaks
, a new print and online journal, seeks to touch the live wire where language and visual art meet.
Gertrude Stein's Paris artist salon, Velemir Khlebnikov and Vladimir Tatlin's constructive collaboration, Bernadette Mayer and Vito Acconci's editorial partnership, Augusto de Campos's concrete engagement with Brazilian modernism and Mike Kelley's interest in systems of literary knowledge have each provided potential models of positive exchange between artists and writers. Area Sneaks hopes to maintain this dialogue by creating a fellowship of discourse within an open community of contemporary artists and writers.
Benevolent area-sneaks get lost in the kitchens and are found to impede the circulation of the knife-cleaning machine.
—Charles Dickens