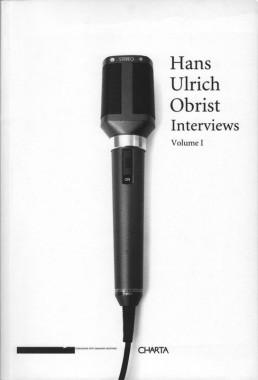 Hans Ulrich Obrist, Interviews Volume I
Softcover, 968 pp., offset 1/1, 140 x 205 mm
Edition of 2000
ISBN 9788881584314
Published by Charta
$59.00 ·
It is not an exaggeration to write that Hans Ulrich Obrist is everywhere, has curated everything and has interviewed everyone. If "peripatetic" is the word most overused to describe him, it is not inappropriate. The Swiss-born, everywhere-based curator and head of the Programme Migrateurs at the Musée d'Art Moderne de la Ville de Paris has an unstoppable wanderlust and a related symptom: his penchant for interviewing anyone and everyone who piques his curiosity, be they artist, scientist, writer, curator, composer, architect, thinker, etc. Since 1993, Obrist has conducted more than 300 interviews, 75 of which are collected here in a selection that respects the cultural and professional diversity of the interviewees. Each interview is introduced by a short text outlining the biography of the interviewee and giving some contextual information on the recording of the interview.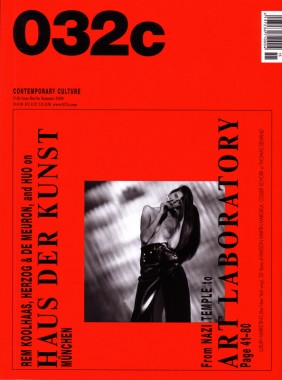 032c 15, Haus der Kunst
Softcover, 256 pp., offset 4/1, 20 x 27 cm
Edition of 2000
Published by 032c
$20.00 ·
Rem Koolhaas, Jacques Herzog and Hans Ulrich Obrist consider Haus der Kunst, Munich: From Nazi temple to Art Laboratory; Collier Schorr tells Thomas Demand how she made Germany hers; LAM magazine transforms Moscow youth culture; art director Richard Pandiscio and Marc Jacobs' Robert Duffy school us in luxury marketing; architect Greg Lynn curves his enthusiasm; a happy birthday to Maison Martin Margiela.