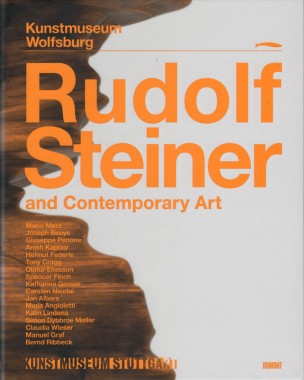 Markus Brüderlin and Ulrike Groos, Rudolf Steiner and Contemporary Art
Hardcover, 224 pp., offset 4/4, 240 x 315 mm
Edition of 5000
ISBN 978-3-8321-9278-5
Published by Dumont Buchverlag
$60.00 ·
At once a philosopher, educational and medical reformist, mystic and artist, Rudolf Steiner (1861-1925) was the founder of a spiritual movement he dubbed Anthroposophy, and of the famous school system that bears his name. Anthroposophy combined elements of German philosophy with Theosophical theory, and also made use of architecture, dance (Eurthymy), painting and sculpture to illustrate his ideas. Steiner's artworks occupy a fascinatingly ambiguous status as both pedagogical and aesthetic entities, and served as springboards for the early work of Mondrian and Kandinsky among others; they have continued to influence artists down the generations. In 1992, Steiner's panel drawings were exhibited at the Galerie Monika Sprüth in Cologne, renewing their efficacy for contemporary artists. Published for the Kunstmuseum Wolfsburg's 2010 exhibition, this book is the first assessment of the influence of Anthroposophical thought on contemporary art.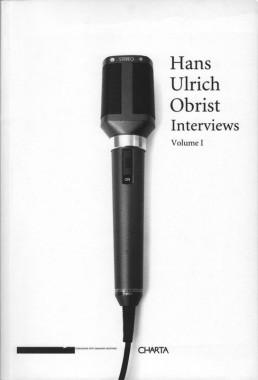 Hans Ulrich Obrist, Interviews Volume I
Softcover, 968 pp., offset 1/1, 140 x 205 mm
Edition of 2000
ISBN 9788881584314
Published by Charta
$59.00 ·
It is not an exaggeration to write that Hans Ulrich Obrist is everywhere, has curated everything and has interviewed everyone. If "peripatetic" is the word most overused to describe him, it is not inappropriate. The Swiss-born, everywhere-based curator and head of the Programme Migrateurs at the Musée d'Art Moderne de la Ville de Paris has an unstoppable wanderlust and a related symptom: his penchant for interviewing anyone and everyone who piques his curiosity, be they artist, scientist, writer, curator, composer, architect, thinker, etc. Since 1993, Obrist has conducted more than 300 interviews, 75 of which are collected here in a selection that respects the cultural and professional diversity of the interviewees. Each interview is introduced by a short text outlining the biography of the interviewee and giving some contextual information on the recording of the interview.