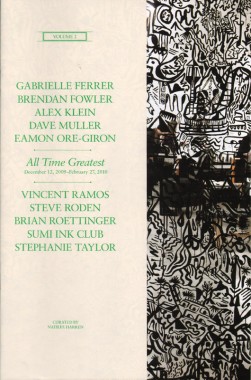 Natilee Harren and Andrew Berardini, All Time Greatest
Softcover, 32 pp., mimeograph 1/1 + offset 4/4, 190 x 280 mm
Edition of 150
Vol. 1 (texts) + Vol. 2 (images)
Published by Fellows of Contemporary Art
$10.00 ·
A two-volume, limited edition catalogue designed by Brian Roettinger, published as his contribution to the exhibition, including essays by Andrew Berardini and Natilee Harren. Vol. 1 with texts; Vol. 2 with images.
Beyond the emergent field of sound art, there exist certain artists for whom music forms one aspect of a multi-faceted practice or for whom it plays a deep influence that may not find expression outside the studio. Conceived as a concept album-turned-exhibition, All Time Greatest offers the opportunity to consider how artists' musical predilections — the secret soundtrack to their production — might add a dimension of significance to their work in an exhibition setting. The exhibition features the work of 11 LA-based artists: Gabrielle Ferrer, Brendan Fowler, Alex Klein, Dave Muller, Eamon Ore-Giron, Vincent Ramos, Steve Roden, Brian Roettinger, Sumi Ink Club (Luke Fischbeck and Sarah Rara), and Stephanie Taylor.
With the curator repositioned as fan or enthusiast, artists were selected out of an admiration for or curiosity about their musical knowledge and tastes. The center of the gallery will feature a turntable and record collection composed of each artist's chosen "all time greatest" album. Visitors are welcome to thumb through and listen to the records. The pairing of visual art and music emphasizes the temporal dimension of viewing, and comfortable seating will invite visitors to spend extended time with the works on display. Against the culture of rapid digital file sharing, All Time Greatest uses the exhibition format as an opportunity to revive an analog, old-school approach to sharing music at the same time that it adapts the fan culture of audiophiles to the task of the curator.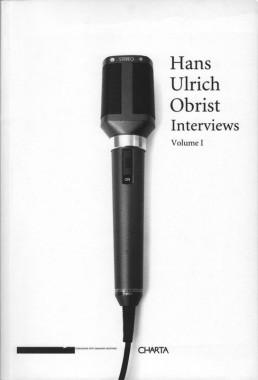 Hans Ulrich Obrist, Interviews Volume I
Softcover, 968 pp., offset 1/1, 140 x 205 mm
Edition of 2000
ISBN 9788881584314
Published by Charta
$59.00 · out of stock
It is not an exaggeration to write that Hans Ulrich Obrist is everywhere, has curated everything and has interviewed everyone. If "peripatetic" is the word most overused to describe him, it is not inappropriate. The Swiss-born, everywhere-based curator and head of the Programme Migrateurs at the Musée d'Art Moderne de la Ville de Paris has an unstoppable wanderlust and a related symptom: his penchant for interviewing anyone and everyone who piques his curiosity, be they artist, scientist, writer, curator, composer, architect, thinker, etc. Since 1993, Obrist has conducted more than 300 interviews, 75 of which are collected here in a selection that respects the cultural and professional diversity of the interviewees. Each interview is introduced by a short text outlining the biography of the interviewee and giving some contextual information on the recording of the interview.