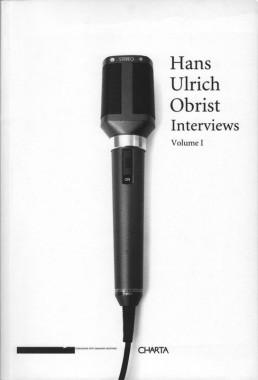 Hans Ulrich Obrist, Interviews Volume I
Softcover, 968 pp., offset 1/1, 140 x 205 mm
Edition of 2000
ISBN 9788881584314
Published by Charta
$59.00 · out of stock
It is not an exaggeration to write that Hans Ulrich Obrist is everywhere, has curated everything and has interviewed everyone. If "peripatetic" is the word most overused to describe him, it is not inappropriate. The Swiss-born, everywhere-based curator and head of the Programme Migrateurs at the Musée d'Art Moderne de la Ville de Paris has an unstoppable wanderlust and a related symptom: his penchant for interviewing anyone and everyone who piques his curiosity, be they artist, scientist, writer, curator, composer, architect, thinker, etc. Since 1993, Obrist has conducted more than 300 interviews, 75 of which are collected here in a selection that respects the cultural and professional diversity of the interviewees. Each interview is introduced by a short text outlining the biography of the interviewee and giving some contextual information on the recording of the interview.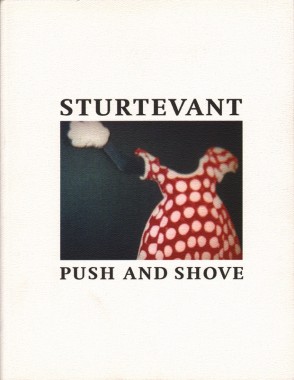 Sturtevant, Push and Shove
Softcover, 120 pp., offset 4/4, 8.5 x 11 inches
Edition of 2000
ISBN 9788881585441
Published by Charta
$40.00 ·
An art-world legend records that somebody once asked Andy Warhol about his process, to which he replied, "I don't know. Ask Elaine." True or not, one thing is sure — Elaine Sturtevant likes to fake it. Working alongside her contemporaries since the mid-1960s, the artist is best known today for her reproductions of then-radical works by Andy Warhol, Frank Stella, Claus Oldenburg, Jasper Johns, Joseph Beuys, and others. Mainly absent from the art scene in the 1970s, Sturtevant reemerged in the 1980s, and has adhered to her rigorous conceptual strategy ever since, even re-creating Paul McCarthy's fabulously grotesque video performance, "The Painter" in 2002. Exploring notions of originality, replication and simulacra, Sturtevant's work has been a meditation on as much as a provocation of such concepts, and has continued to garner attention in her 40 years of practice in the fields of art history and philosophy. Included here are images of her re-installation of Marcel Duchamp's 1,200 coal bags at New York's Perry Rubinstein Gallery and stills from her 1967 film, Nude Descending a Staircase. Also represented is the artist's seven-channel video installation from 2003, The Dark Threat of Absence/Fragmented and Sliced.