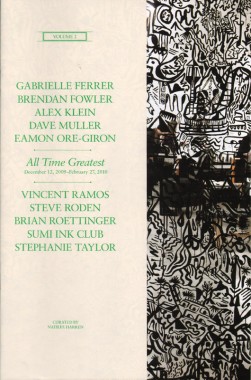 Natilee Harren and Andrew Berardini, All Time Greatest
Softcover, 32 pp., mimeograph 1/1 + offset 4/4, 190 x 280 mm
Edition of 150
Vol. 1 (texts) + Vol. 2 (images)
Published by Fellows of Contemporary Art
$10.00 ·
A two-volume, limited edition catalogue designed by Brian Roettinger, published as his contribution to the exhibition, including essays by Andrew Berardini and Natilee Harren. Vol. 1 with texts; Vol. 2 with images.
Beyond the emergent field of sound art, there exist certain artists for whom music forms one aspect of a multi-faceted practice or for whom it plays a deep influence that may not find expression outside the studio. Conceived as a concept album-turned-exhibition, All Time Greatest offers the opportunity to consider how artists' musical predilections — the secret soundtrack to their production — might add a dimension of significance to their work in an exhibition setting. The exhibition features the work of 11 LA-based artists: Gabrielle Ferrer, Brendan Fowler, Alex Klein, Dave Muller, Eamon Ore-Giron, Vincent Ramos, Steve Roden, Brian Roettinger, Sumi Ink Club (Luke Fischbeck and Sarah Rara), and Stephanie Taylor.
With the curator repositioned as fan or enthusiast, artists were selected out of an admiration for or curiosity about their musical knowledge and tastes. The center of the gallery will feature a turntable and record collection composed of each artist's chosen "all time greatest" album. Visitors are welcome to thumb through and listen to the records. The pairing of visual art and music emphasizes the temporal dimension of viewing, and comfortable seating will invite visitors to spend extended time with the works on display. Against the culture of rapid digital file sharing, All Time Greatest uses the exhibition format as an opportunity to revive an analog, old-school approach to sharing music at the same time that it adapts the fan culture of audiophiles to the task of the curator.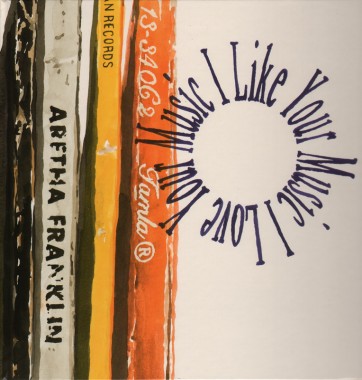 Dave Muller, I Like Your Music I Love Your Music
Hardcover, 168 pp., offset 4/4, 305 x 305 mm
Edition of 2000
ISBN 9783905829860
Published by JRP|Ringier
$68.00 ·
The exquisite paintings of record covers and spines by Los Angeles-based artist Dave Muller give us a glimpse into his cultural identity. I Like Your Music I Love Your Music presents a selection of recent works dealing with the ways in which we construct our cultural identities through music — which he represents as a network of aesthetic, social and personal exchanges. Muller's multifaceted practice includes curating, cultural agitating, DJing and record collecting — his collection tops out at 15,000 digital albums. He is particularly well known for his multitextured installations that blend his own sound tracks with his visual work. He is represented by Blum & Poe in Los Angeles and was included in the 2004 Whitney Biennial. This volume is published in collaboration with Spain's Museo de Arte Contemporáneo de Castilla y León (MUSAC), and includes an essay by artist and Director of New York's White Columns, Matthew Higgs.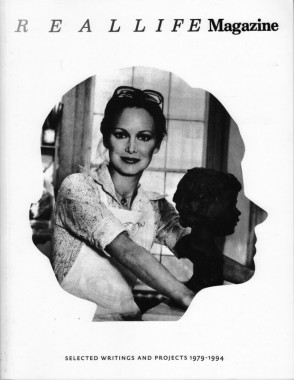 Real Life Magazine: Selected Writing and Projects 1979-1994
Softcover, 320 pp., offset 1/1, 8.25 x 11 inches
Edition of 1000
ISBN 9780978869700
Published by Primary Information
$30.00 · out of stock
Real Life Magazine: Selected Writings and Projects 1979-1994
highlights a selection of writings and artists' projects from Real Life magazine, which was originally edited by artist, writer, and curator, Thomas Lawson and writer, Susan Morgan. Published in twenty-three issues from 1979-1994 as an intermittent black and white magazine, Real Life featured artists and art historians writing on art, media and popular culture interspersed with pictorial contributions. The development of the magazine through its 15 year history, traces the influences, development and transitions of artists through the 80s.
The anthology features writings by and about Dara Birnbaum, Eric Bogosian, Rhys Chatham, Mark Dion, Jack Goldstein, Felix Gonzalez-Torres, Kim Gordon, Dan Graham, Thomas Lawson, Louise Lawler, Sherrie Levine, Allan McCollum, John Miller, Dave Muller, Matt Mullican, Adrian Piper, Richard Prince, David Robbins, Ed Ruscha, Cindy Sherman, Laurie Simmons, Michael Smith, John Stezaker, Bernard Tschumi, Jeff Wall, Lawrence Weiner, and James Welling among others.