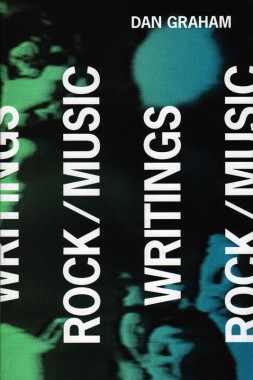 Dan Graham, Rock/Music Writings
Softcover, 224 pp., offset 4/1, 5.5 x 8.25 inches
Edition of 3000
ISBN 978-0978869-73-1
Published by Primary Information
$18.00 ·
As admired for his writing as for his work in art, photography and architecture, Dan Graham was one of the first contemporary artists to embrace Punk, Postpunk and No Wave, becoming a figurehead for those movements, and an early supporter of (and friend to) Glenn Branca and Sonic Youth among many others. Rock/Music Writings collects 13 of Graham's most influential writings, on bands ranging from The Kinks to Bow Wow Wow, first published in art journals such as Real Life, Open Letter and ZG between 1968 and 1988, and in the now rare volume Rock My Religion. It includes such landmark essays as "Punk as Propaganda," which explicates the self-packaging and media critique of The Ramones, Devo, the Sex Pistols, the Desperate Bicycles and others; "Rock My Religion," in which Graham traces themes of ecstatic reverie in rock performance (with a focus on Patti Smith), through a beautiful composite of quotation, commentary and photography; and "New Wave Rock and the Feminine," which discusses the onstage personae of Lydia Lunch, Debbie Harry and Siouxsie Sioux, and the gender politics of all-female groups such as The Slits, The Raincoats, Bush Tetras and others. Throughout Rock/Music Writings, Graham's appraisals are clear-eyed, sophisticated and poetically constructed, a genre of their own within artists' writings.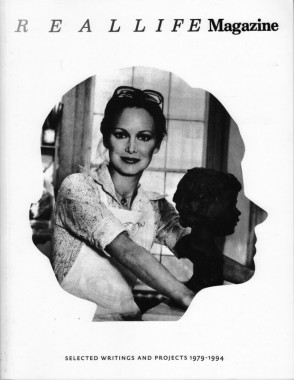 Real Life Magazine: Selected Writing and Projects 1979-1994
Softcover, 320 pp., offset 1/1, 8.25 x 11 inches
Edition of 1000
ISBN 9780978869700
Published by Primary Information
$30.00 ·
Real Life Magazine: Selected Writings and Projects 1979-1994
highlights a selection of writings and artists' projects from Real Life magazine, which was originally edited by artist, writer, and curator, Thomas Lawson and writer, Susan Morgan. Published in twenty-three issues from 1979-1994 as an intermittent black and white magazine, Real Life featured artists and art historians writing on art, media and popular culture interspersed with pictorial contributions. The development of the magazine through its 15 year history, traces the influences, development and transitions of artists through the 80s.
The anthology features writings by and about Dara Birnbaum, Eric Bogosian, Rhys Chatham, Mark Dion, Jack Goldstein, Felix Gonzalez-Torres, Kim Gordon, Dan Graham, Thomas Lawson, Louise Lawler, Sherrie Levine, Allan McCollum, John Miller, Dave Muller, Matt Mullican, Adrian Piper, Richard Prince, David Robbins, Ed Ruscha, Cindy Sherman, Laurie Simmons, Michael Smith, John Stezaker, Bernard Tschumi, Jeff Wall, Lawrence Weiner, and James Welling among others.
fillip 9
Softcover, 28 pp., offset 1/1, 12 x 18 inches
Edition of 1500
Published by Fillip
$5.00 ·
Fillip is a publication of art, culture and ideas released three times a year by the Projectile Publishing Society from Vancouver, British Columbia.