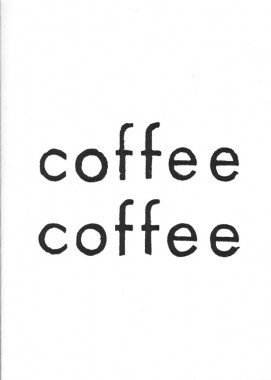 Aram Saroyan, Coffee Coffee
Softcover, 88 pp., offset 1/1, 5 x 7 inches
Edition of 1000
ISBN 978-0-9788697-5-5
Published by Primary Information
$10.00 ·
Infamous artist book by one of the 1960s most controversial poets.
Coffee Coffee
was originally published as a mimeographed edition by Vito Acconci and Bernadette Mayer on their 0 To 9 press in 1967. True to Saroyan's minimalist approach of the time,
Coffee Coffee
's pages contain one word (sometimes 2 and once or twice, 3), each pulling you to the next (revolving door-like). Selections from
Coffee Coffee
appear in the recent anthology
Complete Minimal Poems
(Ugly Duckling Presse) edited by Primary Information co-founder James Hoff; however, this is the first time that this work has appeared in its complete and initial form since 1967.
"In the late Sixties, when I called myself a poet, Aram was the poet I envied. Because you couldn't be sure if he was fooling or if he had really gotten to all there is to get. Because while the rest of us tried to be verbs, like everybody told us to do, he had the nerve to stop at nouns. Because he took a deep breath and willed himself into the self-confidence of naming. Because it wasn't 'nouns,' it was 'noun,' only one noun, because he boiled it all down to one. Because then he let himself go, he let himself stutter, he let the one go and let the one double and go out of focus: while the rest of us ran for our lives all over the place and over the page, his noun shimmered and breathed and trembled and moved-shh! softly, softly-from within."
—Vito Acconci