C Magazine 115, Participation
Softcover, 64 pp., offset 4/1, 210 x 295 mm
Edition of 2200
ISSN 1480-5472
Published by C Magazine
$7.50 ·
Issue 115, Participation, features essays by Vesna Krstich on how to make a 'Happening' classroom, Leah Modigliani on the Vancouver Occupations of 1971, Amy Fung on communities and antagonism, Rachel Anne Farquharson on recollecting through the works of Kerry Tribe, Petrina Ng and Lindsay Seers, as well as Corrine Fitzpatrick in response to our recent "Men" issue. C Magazine 115 also includes an artist project by MPA and Amapola Prada, book reviews and reviews of exhibitions by Jeremy Deller, Janieta Eyre, Emily Falencki, Sean MacAlister, Michael Maranda, Rory Middleton and Cindy Sherman, among others.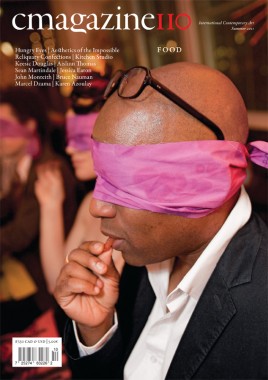 C Magazine 110, Food
Softcover, 57 pp., offset 4/1, 210 x 295 mm
Edition of 2200
ISSN 1480-5472
Published by C Magazine
$7.50 ·
Issue 110 includes Mark Clintberg's essay Hungry Eyes: Feasting on Food Photography from elBulli and Beyond, Nicole J. Caruth's Kitchen Studio: A Recipe for Disaster, Leah Modigliani's Collaborating on Conceptual Art: An Aesthetics of the Impossible and Swapnaa Tamhane's The Performative Space: Tracing the Roots of Performance-Based Work in India. This issue also include an interview by Pandora Syperek with Fiona Kinsella and artist projects by Keesic Douglas and Aislinn Thomas. The reviews section includes writing about exhibitions and projects by Karen Azoulay, Marcel Dzama, Jessica Eaton, Sean Martindale, John Monteith, Bruce Nauman, Cady Noland and Diane Arbus, Douglas Scholes and Hide/Seek: Difference and Desire in American Portraiture at the National Portrait Gallery in Washington D.C.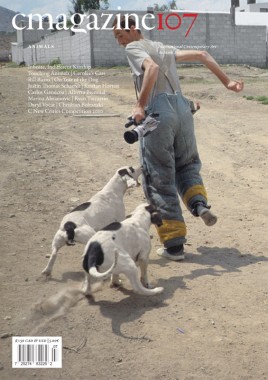 C Magazine 107, Animals
Softcover, 64 pp., offset 4/1, 210 x 295 mm
Edition of 2000
ISSN 1480-5472
Published by C Magazine
$7.50 ·
Issue 107 includes feature essays by Carla Benzan, on Carolee Schneemann's cats; Karen Houle, on ethics and animal kinship; Jon Davies, on Mike White's film, Year of the Dog; and Helena Reckitt, writing about human/non-human animal relationships; book and exhibition reviews from Calgary, the Alberta Biennial in Edmonton, Dublin, Halifax, Montreal, New York, Paris, Peterborough, Toronto, the winning entry for the 2010 New Critics Competition from Minneapolis; and an artist project by Bill Burns, with an essay by Gentiane Bélanger.