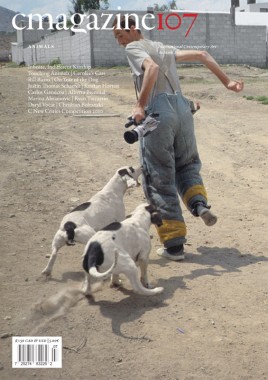 C Magazine 107, Animals
Softcover, 64 pp., offset 4/1, 210 x 295 mm
Edition of 2000
ISSN 1480-5472
Published by C Magazine
$7.50 ·
Issue 107 includes feature essays by Carla Benzan, on Carolee Schneemann's cats; Karen Houle, on ethics and animal kinship; Jon Davies, on Mike White's film, Year of the Dog; and Helena Reckitt, writing about human/non-human animal relationships; book and exhibition reviews from Calgary, the Alberta Biennial in Edmonton, Dublin, Halifax, Montreal, New York, Paris, Peterborough, Toronto, the winning entry for the 2010 New Critics Competition from Minneapolis; and an artist project by Bill Burns, with an essay by Gentiane Bélanger.
fillip 7
Softcover, 28 pp. + two posters, offset 1/1, 12 x 18 inches
Edition of 1500
Published by Fillip
$5.00 ·
Fillip is a publication of art, culture and ideas released three times a year by the Projectile Publishing Society from Vancouver, British Columbia.