fillip 13, Intangible Economies
Softcover, 116 pp., offset 4/1, 170 x 245 mm
Edition of 2000
ISSN 1715-3212
Published by Fillip
$15.00 ·
Fillip 13 introduces
Intangible Economies
, a new, ongoing series broadening the notion of economy beyond its financial dimensions. The series focuses on the multifarious forms of exchange fuelled by affect and desire, speculatively investigating the fundamental role these affective transactions play in modes of representation and, accordingly, in cultural production.
This issue includes series texts by Candice Hopkins, Jan Verwoert, and series editor Antonia Hirsch. Forthcoming installments will include contributions by Hadley+Maxwell, Olaf Nicolai, and Monika Szewczyk, among others.
The issue also features a record of The AAAARG Library, a site-specific installation commissioned for Fillip 13 and the 2010 NY Art Book Fair. The Library, produced by artist Sean Dockray and curated by Jeff Khonsary, will be presented again this summer as part of Night Market, a Red76 project for the Massachusetts Museum of Contemporary Art in North Adams, MA.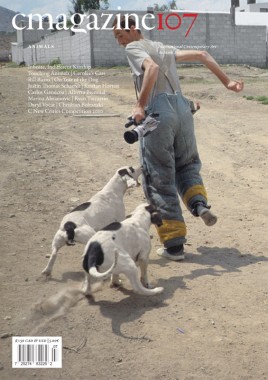 C Magazine 107, Animals
Softcover, 64 pp., offset 4/1, 210 x 295 mm
Edition of 2000
ISSN 1480-5472
Published by C Magazine
$7.50 ·
Issue 107 includes feature essays by Carla Benzan, on Carolee Schneemann's cats; Karen Houle, on ethics and animal kinship; Jon Davies, on Mike White's film, Year of the Dog; and Helena Reckitt, writing about human/non-human animal relationships; book and exhibition reviews from Calgary, the Alberta Biennial in Edmonton, Dublin, Halifax, Montreal, New York, Paris, Peterborough, Toronto, the winning entry for the 2010 New Critics Competition from Minneapolis; and an artist project by Bill Burns, with an essay by Gentiane Bélanger.