Arthur Pollock, Arthur Pollock
Hardcover with dust jacket, 184 pp., offset 1/1, 9 x 11 inches
Edition of 500
ISBN 978-0-983-66980-7
Published by Unpiano Books
$30.00 ·
Arthur Pollock has worked as a photojournalist for over fifty years, both freelance and on staff for several major news outlets. His professional career began in Hammond, IN and Lowell, MA in the nineteen sixties as he documented day-to-day street level stories of the time, and cut his teeth in those towns in the midst of an economic downturn and a cultural revolution. Hired on staff at the Boston Herald in the early nineteen eighties, he worked in the field for over ten years on many important features and was the recipient of numerous awards before becoming Assistant Photo Editor at the end of the decade.
This monograph is the first attempt at chronicling his enormous body of work and contains a cross-section of material from his early days on the streets, all the way up until the early nineteen nineties.
While he may echo the understatement of a news scribe, Pollock's work clearly pays special homage to the artistry of those iconic shutter artists, Diane Arbus and the legendary New York street lensman of the 30s and 40s, Weegee. Indeed, every picture does tell a story. And in this unique collection, there are hundreds of stories… wonderfully told.
— Peter Gelzinis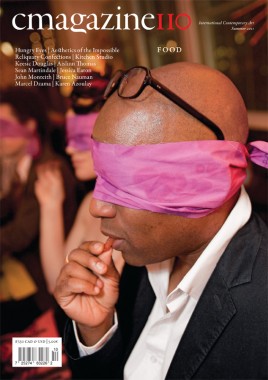 C Magazine 110, Food
Softcover, 57 pp., offset 4/1, 210 x 295 mm
Edition of 2200
ISSN 1480-5472
Published by C Magazine
$7.50 ·
Issue 110 includes Mark Clintberg's essay Hungry Eyes: Feasting on Food Photography from elBulli and Beyond, Nicole J. Caruth's Kitchen Studio: A Recipe for Disaster, Leah Modigliani's Collaborating on Conceptual Art: An Aesthetics of the Impossible and Swapnaa Tamhane's The Performative Space: Tracing the Roots of Performance-Based Work in India. This issue also include an interview by Pandora Syperek with Fiona Kinsella and artist projects by Keesic Douglas and Aislinn Thomas. The reviews section includes writing about exhibitions and projects by Karen Azoulay, Marcel Dzama, Jessica Eaton, Sean Martindale, John Monteith, Bruce Nauman, Cady Noland and Diane Arbus, Douglas Scholes and Hide/Seek: Difference and Desire in American Portraiture at the National Portrait Gallery in Washington D.C.