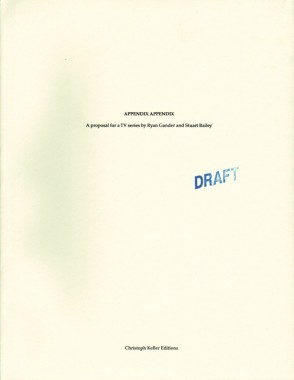 Stuart Bailey and Ryan Gander, Appendix Appendix
Softcover, 192 pp., offset 4/1, 215 x 280 mm
Edition of 5000
ISBN 978-3-905770-19-3
Published by JRP|Ringier, CK editions
$29.00 ·
Appendix Appendix
is conceived as the sequel to Ryan Gander and Stuart Bailey's 2003 book "Appendix." Like its predecessor, it attempts "a translation of practice" based on Ryan Gander's recent body of work. Neither straight
documentation, nor an "artist's book," it pushes for a third way, editing and presenting each individual piece of work in a manner appropriate to its specific nature. In the years since "Appendix," Gander's work has increasingly encompassed sound and the moving image in addition to the earlier objects and installations. This shift will directly affect the form of
Appendix Appendix
.
Born in 1976, Ryan Gander lives and works in London and Amsterdam. His photographs, films, installations and sculptures draw on multiple layers of facts and fiction. He has exhibited in the USA and throughout England and Europe.
The English-born Stuart Bailey (*1973) has forged a formidible creative base for himself in Amsterdam where he has benefited greatly from Dutch design tradition. Since his arrival in the Netherlands, he has become a steady contributor to the art and design culture as a writer, critic, editor, and graphic designer.
This publication is part of the series of artists projects edited by Christoph Keller. Personally selected by Keller, for Textfield, as one of his top five from the series.