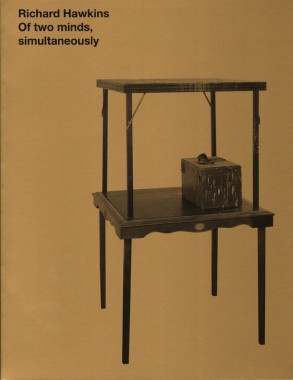 Richard Hawkins, Of two minds, simultaneously
Softcover, 164 pp., offset 4/1, 215 x 280 mm
Edition of 2000
ISBN 978-3-86560-425-5
Published by Walther König
$59.00 ·
This monograph on Richard Hawkins is published on the occasion of his first institutional overview exhibition with works from 1993 to now: starting with his collages from the 1990s — intriguing because they show how a powerful artwork can originate from very few visual means – right up to his recent dolls houses transformed into brothels that herald another completely new direction in Hawkins heterogeneous oeuvre. In his work Hawkins looks both critically and appreciatively at social, cultural and historical phenomena, mixing these with autobiographical motives to create a multiform body of work linked by countless internal references in ideas, material and style. These formal and internal links resonate throughout the whole book as components of themes that range from male desire, gender issues and pop star idolization to the struggle of mixedrace Native Americans or the function of hermaphrodite statuary in the Roman era.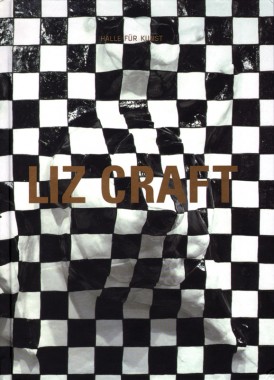 Liz Craft — Fantasy Architecture
Hardcover, 168 pp., offset 4/1, 170 x 235 mm
Edition of 2000
ISBN 978-3-905770-10-0
Published by JRP|Ringier/Halle fur Kunst
$29.00 ·
If California is often characterized by the myth of the easy rider, by relaxed sexiness, fun and creative experimentation, Liz Craft, who was born in Mammoth and studied sculpture at UCLA, is in the right place. A Californian dream of sun, love, and peace with a sharp dose of critical awareness, her sculptures appear to be where they are by accident, as if borrowed from another age or last night's high. Her world of hallucinations, allusions and impressions is full of the folkloric and the bizarre–Watts Towers, hippie Venice Beach, unicorns, dwarves, witches and escapees from Disneyland. In this psychedelic habitat, the real develops into the surreal and the everyday becomes strange, pointing up the fleetingness of the moment and the uncertainty of being. As seen at Regen Projects in Los Angeles and Metro Pictures, Marianne Boesky and the 2004 Whitney Biennial in New York.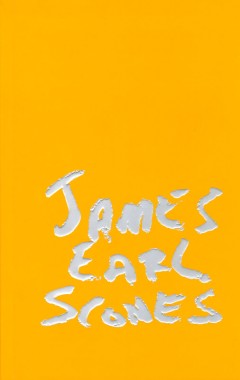 Darren Bader, James Earl Scones
Softcover, 96 pp., offset 1/1, 6 x 9 inches
Edition of 1000, signed and numbered
Published by David Kordansky Gallery, Rivington Arms
$25.00 · out of stock
"In an art world vernacular, Darren Bader joins the pointed yet poetic, museumoligical interventions of Christopher D'Arcangelo to the cheesy, rank diaristic meditations of Dieter Roth. Punster and prankster, the demon spawn of Julia Child and David Markson, in a less highfalutin patois, he's about the only guy I know who one-ups Don Novello's great Lazlo Toth letters by signing his own name. Taking (so-called) institutional critique apart brick by gold-sanctioned brick, he's critiquing the world and partying at the same time—Tom Cruise and NASA, stand warned. It's about time someone tapped Al Qaeda as an aesthetic. James Earl Scones are my new favorite way to start the day."
—Bruce Hainley