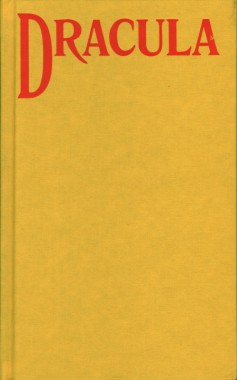 Bram Stoker, Dracula
Hardcover, 496 pp., offset 1/duotone + red fore-edge printing, 148 x 240 mm
Edition of 2000
ISBN 978-0-9545025-7-7
Published by Four Corners Books
$27.00 ·
This new edition of the most famous of vampire stories has been illustrated by James Pyman and has been designed by John Morgan, in collaboration with the artist. Although the figure of Dracula has long loomed large in the public consciousness, for this edition, Pyman returned to the original text, illustrating a line or phrase from each of the book's 27 chapters in a series of beautiful pencil drawings.
The novel, made up of a series of diaries, letters and newspaper cuttings, has been typeset by designer John Morgan with a different typeface for each character, the fonts based on those in use at the time of the book's original publication. The yellow clothbound cover echoes that of the first UK edition.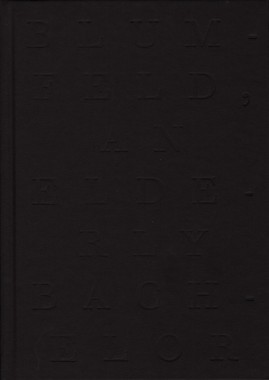 David Musgrave, Blumfeld, an Elderly Bachelor
Hardcover, 84 pp., offset 1/duotone, 145 x 205 mm
Edition of 2000
ISBN 978-0-9545025-6-0
Published by Four Corners Books
$19.00 ·
In this volume, British artist David Musgrave revisits Franz Kafka's novella Blumfeld, an Elderly Bachelor, the tale of a man who arrives home one day to find two plastic balls bouncing off the ground of their own accord. To his great irritation, these balls follow Blumfeld–who is a stickler for absolute order in his universe — wherever he goes, and his attempts to divest himself of their presence are described with Kafka's customary flair for the detached observation of the extremely bizarre. Musgrave has responded to Kafka's story with a series of pencil drawings of curious artifacts and pseudo-archaeological fragments of his own invention. Combined with John Morgan's austere design — which finds the book typeset in Kafka's preferred font and large type size, which he was never able to see printed in his lifetime — this volume almost feels like a case study of some unique bygone supernatural phenomenon.