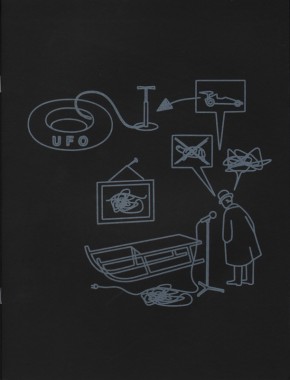 Jürg Lehni and Alex Rich, Things to Say (Viktor)
Softcover, 16 pp., offset 1/1, 195 x 255 mm
Edition of 1000
ISBN 978-3-905714-70-8
Published by Nieves
$14.00 ·
Before
Viktor
there was
Hektor
, a relatively simple spray-can output device driven by two motors. Invented in collaboration with the engineer Uli Franke, it made its debut as Jürg Lehni's art-school graduation project at the Ecole Cantonale d'Art de Lausanne (ECAL) in 2002 and has performed regularly ever since.
Far from being a closed mechanical device — a black box between creative impulse and output — the concern of Hektor (and now Viktor) is the nuanced interaction between the user and the technologies of communication. The drawing machine Viktor is an amalgam of digital and mechanical technologies. A collage of tools, all of which were invented for other general and specific uses.
In response to the position of such technologies, Lehni together with Alex Rich started an ongoing e-mail correspondence about various devices, systems and technologies with which their work had a resonance. Lehni and Rich constructed an archive, one that they came to call A Recent History of Writing & Drawing and which inspired their installation at the Institute of Contemporary Arts, London (2008).
Upending assumptions that any one kind of communication is more authentic, more direct or more valid that any other, A Recent History of Writing & Drawing finds meaning, texture and poetry in the most unlikely places.
Things to Say (Viktor) is the first in a series of collected drawings produced in collaboration with invited guests to perform with Viktor every Thursday evening at the ICA throughout the duration of the exhibition, curated by Emily King.