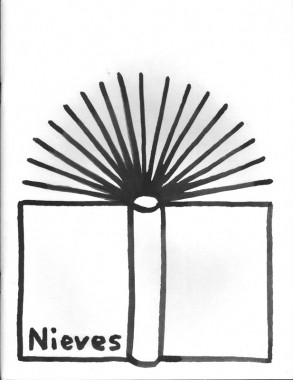 Huge Supplement
Softcover, 24 pp., offset 4/4, 195 x 255 mm
Edition of 1000
Supplement to Huge Magazine No. 72
Published by Nieves
$12.00 ·
Huge Supplement (supplement to Huge Magazine No. 72) with Beni Bischof, Chris Johanson, Dimitri Broquard, Hendrik Hegray, Ingo Giezendanner, Johanna Jackson, Kim Gordon, Rita Ackermann, Stefan Marx, Warja Lavater, and Will Sweeney.
Warja Lavater, Pictograms
Softcover, 124 pp., offset 1/1, 19.5 x 25.5 cm
Edition of 500
Published by Nieves
out of print
An early progenitor of the artist's book genre, Warja Honegger-Lavater was born in Winterthur, Switzerland in 1913. She worked as an illustrator for the magazine
Jeunesse
from 1944-1958, and moved to New York shortly thereafter where she began a wonderful series of artist's books.
These books were published between 1962 and 1971, an exceptionally ripe time for artists to turn to the bookform, a time when the most often cited "first" artist's book also appeared, Twentysix Gasoline Stations (1962) by Ed Ruscha.