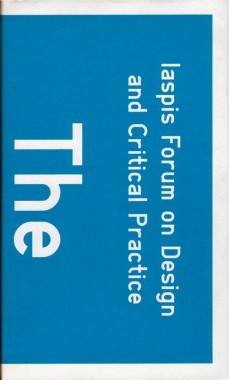 Iaspis Forum on Design and Critical Practice — The Reader
Softcover, 445 pp., offset 4/1, 125 x 210 mm
English and Swedish
Edition of 1000
ISBN 978-1-933128-63-4
Published by Sternberg Press and Iaspis
$25.00 · out of stock
What happens when you look at design as something more than a service-based relationship between client and designer? What new strategies and models help to question and challenge the limits of design? The second publication from the Swedish design think-tank Iaspis, this idea-packed reader focuses on investigative, speculative, and critically oriented design, especially how design relates to architecture. Inspired by an exhibition produced by the Architectural Association in London, the reader is based on four conversations between graphic designers about various aspects of design relating to their practices. It also contains a number of interviews and other texts linked to these conversations, and a broader discussion about design and transboundary practice.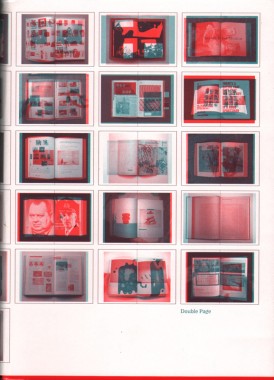 Christoph Keller and Jérôme Saint-Loubert Bié, Double Page
Softcover, 256 pp., offset 4/3, 115 x 160 mm
Edition of 2000
ISBN 978-2917855-06-5
Published by Editions B42
$15.00 · out of stock
45 graphic designers, 90 photographs, 10 years of books on contemporary art.
This book is based on an invitation to graphic designers to choose two books on contemporary art from the past decade whose design they think is particularly pertinent to the content, to photograph one double-page spread from each book and, if they wish, to comment on their choices.
Double Page provides a selection of recent art publications as viewed by graphic designers who are internationally known for their contribution to that field, and offers a glimpse at the role of book design today in our knowledge and understanding of contemporary art.
Shedding light on this prevalent relationship between art and graphic design by means of photography, Double Page constitutes an unprecedented document of how graphic designers see the work of their peers and their own practices as an essential part of the editorial process.