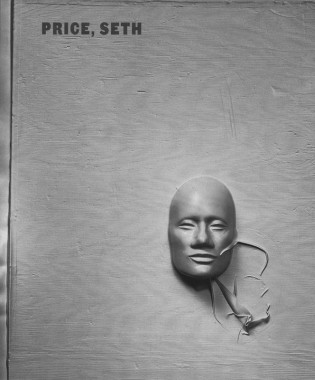 Seth Price, Price, Seth
Hardcover, 108 pp., offset 4/4, 200 x 240 mm
Edition of 2000
ISBN 978-3-03764-028-9
Published by JRP|Ringier
$35.00 · out of stock
Through paintings, sculpture, video, and media work, Seth Price underlines the production strategies, dissemination modes, and valuation patterns of art. His appropriationist work, which he rather calls a "redistribution" of (often) pirated materials, disrupts the operations of commodity culture. Among his formats and tactics one should mention the recycling of iconic illustrations, reduplication (from digital to vacuum-formed techniques), the reenactment of projects, and the collaborative actions with
Continuous Project
(formed in 2003 with Bettina Funcke, Wade Guyton, and Joseph Logan) or other artists.
The first monograph dedicated to the artist, this book includes an essay by Michael Newman as well as Price's own critical take on his practice, given in the form of a videotaped conference that structures the presentation of his works.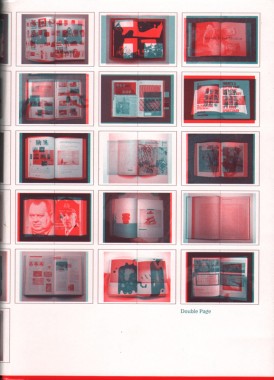 Christoph Keller and Jérôme Saint-Loubert Bié, Double Page
Softcover, 256 pp., offset 4/3, 115 x 160 mm
Edition of 2000
ISBN 978-2917855-06-5
Published by Editions B42
$15.00 · out of stock
45 graphic designers, 90 photographs, 10 years of books on contemporary art.
This book is based on an invitation to graphic designers to choose two books on contemporary art from the past decade whose design they think is particularly pertinent to the content, to photograph one double-page spread from each book and, if they wish, to comment on their choices.
Double Page provides a selection of recent art publications as viewed by graphic designers who are internationally known for their contribution to that field, and offers a glimpse at the role of book design today in our knowledge and understanding of contemporary art.
Shedding light on this prevalent relationship between art and graphic design by means of photography, Double Page constitutes an unprecedented document of how graphic designers see the work of their peers and their own practices as an essential part of the editorial process.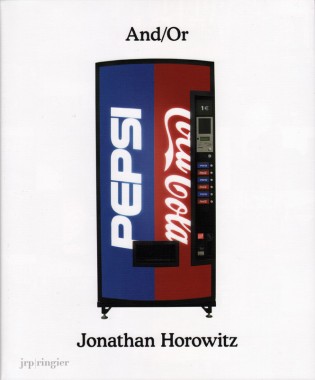 Jonathan Horowitz, And/Or
Softcover, 192 pp., offset 4/4, 240 x 285 mm
Edition of 2000
ISBN 9783037640180
Published by JRP|Ringier
$55.00 ·
Orienting himself firmly in the media-present, New York artist Jonathan Horowitz replays the recent past in the incarnations of our times. This reprisal occurs particularly in video works such as "Maxell," in which the name of the now obsolete videotape company is worn down to a VHS blur, and "The Soul of Tammi Terrell," in which 1960s footage of the eponymous pop star singing "Ain't No Mountain High Enough" is juxtaposed with Julia Roberts and Susan Sarandon's rendition of the song in the 1998 film Stepmom. Horowitz himself makes no overt political critique, but always ensures that the work's underlying edge is laid plainly before the viewer. Queer and ecological themes also abound, as does sly humor and a Warholian detachment. This is the first thorough survey of Horowitz's work.