Born in Flames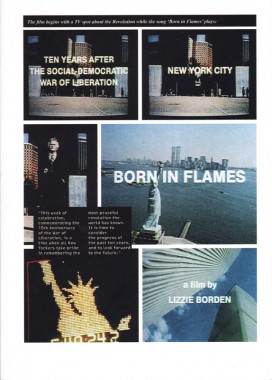 Lizzie Borden, Born in Flames
Softcover, 32 pp., offset 4/4, 210 x 297 mm
Edition of 1000
ISBN 978-0-9562605-9-8
Published by Occasional Papers
$18.00 · out of stock
Born in Flames
, the publication, is an illustrated transcript of Lizzie Borden's 1983 film 'Born in Flames', edited and designed by Kaisa Lassinaro. It includes an interview with Borden conducted in Los Angeles by Lassinaro, as well as the lyrics of
Undercover Nation
by The Bloods and
Born in Flames
by Red Crayola, kindly supplied by Adele Bertei and Mayo Thompson.
'Born in Flames poses the question of whether oppression against women will be eliminated under any kind of social system. […] It is a fantasy presenting a group of women who, confronted with the very "ordinary" oppression women have been experiencing for decades, refuse to take it any longer and become armed fighters against the government. Their position is that oppression against women is not eliminated automatically with "socialism" — not only do political values have to change, cultural values must change and become embedded in practice.'
— Lizzie Borden in Heresies #16, 1983
In the spirit of Borden's film, the publication was collectively funded by the following individuals and institutions:
Stuart Bailey, Heather Bradley, Eleanor Brown, Geoffrey Brusatto, Culturgest, Wayne Daly, Chris Evans, Beatrice Gibson, Nick Gordon, The Hawthorne Archive, Erna Hecey, Onno Hesselink, Will Holder, Jeff Khonsary, Koenig Books, Uriel Orlow, Falke Pisano, Philomene Pirecki, PrintRoom: Karin de Jong, Ewoud van Rijn, Pro QM, David Reinfurt, Jane Rolo, Catherine de Smet, Benjamin Thorel, Giulia Vallicelli, and Julia Zay.
Adele Bertei, Anarchy, Beatrice Gibson, Benjamin Thorel, Catherine de Smet, Chris Evans, Culture, Culturgest, David Reinfurt, Distribution, Eleanor Brown, Erna Hecey, Ewoud van Rijn, Falke Pisano, Feminism, Film, Geoffrey Brusatto, Giulia Vallicelli, Heather Bradley, Heresies, Jane Rolo, Jeff Khonsary, Julia Zay, Kaisa Lassinaro, Karin de Jong, Koenig Books, Lizzie Borden, Mayo Thompson, Nick Gordon, Occasional Papers, Onno Hesselink, Philomene Pirecki, PrintRoom, Pro QM, Red Crayola, Sandy Yang, Socialism, Stuart Bailey, The Hawthorne Archive, The Red Krayola, Uriel Orlow, Wayne Daly, Will Holder