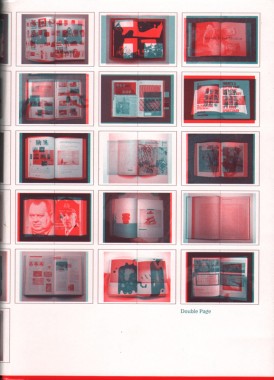 Christoph Keller and Jérôme Saint-Loubert Bié, Double Page
Softcover, 256 pp., offset 4/3, 115 x 160 mm
Edition of 2000
ISBN 978-2917855-06-5
Published by Editions B42
$15.00 · out of stock
45 graphic designers, 90 photographs, 10 years of books on contemporary art.
This book is based on an invitation to graphic designers to choose two books on contemporary art from the past decade whose design they think is particularly pertinent to the content, to photograph one double-page spread from each book and, if they wish, to comment on their choices.
Double Page provides a selection of recent art publications as viewed by graphic designers who are internationally known for their contribution to that field, and offers a glimpse at the role of book design today in our knowledge and understanding of contemporary art.
Shedding light on this prevalent relationship between art and graphic design by means of photography, Double Page constitutes an unprecedented document of how graphic designers see the work of their peers and their own practices as an essential part of the editorial process.
Nakako Hayashi, Here and There 7
Softcover, 64 pp., offset 1/1, 210 x 297 mm
Edition of 1000
Published by Nieves
$20.00 ·
Here and There Vol.7 is dedicated to the cities of Paris and Tokyo, looking at them through the eyes of its wide contributors' family spread around the world. We are taken into a whirlwind of overlapping stories and emotions, through the words and images of Takashi Homma, Elein Fleiss, Susan Cianciolo, Julian Gatto, Kim Gordon, Mike Mills, Benjamin Sommerhalder and most importantly Nakako Hayashi, the mind behind it all.