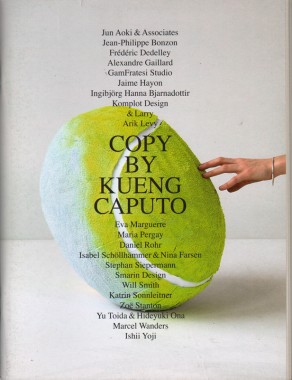 Sarah Kueng and Lovis Caputo, Copy
Softcover, 80 pp., offset 4/1, 195 x 260 mm
Edition of 200
ISBN 978-3-940215-07-9
Published by Passenger Books
$25.00 ·
This picture book documents how these two young Swiss product designers have copied objects seen at international design fairs over the last few years. Each of these copies is juxtaposed with the original, mostly on a double page spread. Using a precise approach, they exaggerate significant aspects of the original. In this way the dialog between the original and the copy represents an homage to the authors. Moreover, the originality of the copy shows what inspirational reading this makes. This wonderful artist book shows the Swiss duo's incredible sense of humor besides their original vision and innovative design. An edition of 200 copies.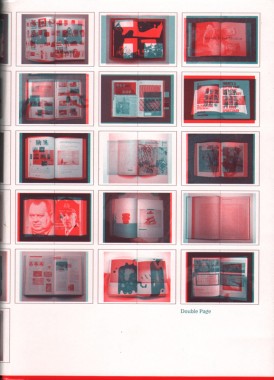 Christoph Keller and Jérôme Saint-Loubert Bié, Double Page
Softcover, 256 pp., offset 4/3, 115 x 160 mm
Edition of 2000
ISBN 978-2917855-06-5
Published by Editions B42
$15.00 · out of stock
45 graphic designers, 90 photographs, 10 years of books on contemporary art.
This book is based on an invitation to graphic designers to choose two books on contemporary art from the past decade whose design they think is particularly pertinent to the content, to photograph one double-page spread from each book and, if they wish, to comment on their choices.
Double Page provides a selection of recent art publications as viewed by graphic designers who are internationally known for their contribution to that field, and offers a glimpse at the role of book design today in our knowledge and understanding of contemporary art.
Shedding light on this prevalent relationship between art and graphic design by means of photography, Double Page constitutes an unprecedented document of how graphic designers see the work of their peers and their own practices as an essential part of the editorial process.
Aude Lehmann / Tan Wälchli, Whyart — A La Mode
Hardcover, 208 pp., offset 4/4, 16 x 21.5 cm
Texts in English and German
Edition of 500
Published by Nieves
$38.00 · out of stock
Since 2004, designer Aude Lehmann (1976) and literary scholar Tan Waelchli (1974), both based in Zurich, have developed the book series Whyart – Aura, Glamour, A la mode, examining the current landscape of design, art and popular culture.
The third volume asks what it means to be "à la mode" today. When Karl Lagerfeld works for H&M, Bruno crawls on the runway behind Paris Hilton and Louis Vuitton sell their bags inside a Murakami exhibition, this indicates that the frontiers which used to separate art and fashion, original and copy, in and out are no longer extant. A la mode therefore proposes a new approach to fashion. From Viktor&Rolf to 50Cent, from Kate Moss to Sarah Jessica Parker, the various contributors seek out a "third way" of fashion transcending the old dichotomies.