P & Co., Sara & Gerald
Newspaper, 12 pp., web offset 1/1, 11 x 17 inches [17 x 22 inches unfolded]
Edition of 500
Published by P & Co.
out of print
P & Co. is committed to the form of the community broadsheet as a site for aesthetic discourse and informed cultural analysis.
Published on a biannual basis, each issue is loosely organized around a personality of historical significance and provides the occasion for a network of affiliates from diverse critical and artistic backgrounds to explore innovative modes of study.
With an emphasis on the free and uninhibited circulation of images, information and ideas, P & Co. reconsiders the material conditions of newsprint in a cultural sphere characterized by aggregate forms of social media.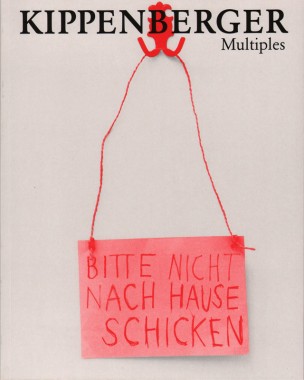 Martin Kippenberger, Multiples 1982-1997
Softcover, 144 pp., offset 4/4, 215 x 270 mm
Edition of 2000
ISBN 9783883756783
Published by Walther König
$35.00 · out of stock
This latest reference work on Kippenberger catalogues all of the multiples produced between 1982 and 1997, documented by title, year, format, motive, edition, signature, and production. Here you will find many hard-to-describe works, including Mirror Babies, ELITE '88, Upside Down And Turning Me, Disco Bombs, and Kippen Seltzer.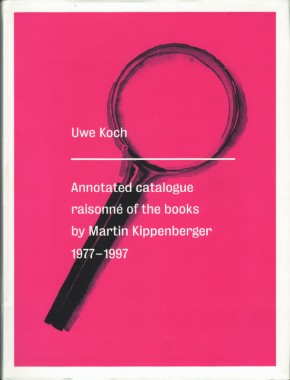 Martin Kippenberger, Annotated Catalogue Raisonné of the Books by Martin Kippenberger 1977-1997
Softcover, 368 pp., offset 1/1, 8.25 x 11 inches
Edition of 5000
ISBN 9781891024658
Published by Distributed Art Publishers
$55.00 · out of stock
Roberta Smith called him the "madcap bad boy of contemporary German art" and also "one of the three or four best German artists of the postwar period." Martin Kippenberger disrupted the status quo throughout his brief, excessive life, not just by making art of every variety and medium but also by conducting an extended performance in the vicinity of art that involved running galleries, organizing exhibitions, collecting the work of his contemporaries and overseeing assistants. He published books and catalogues, played in a rock-and-roll band and cut records, ran a performance-art space during his early years in Berlin, became part owner of a restaurant in Los Angeles during six months he spent there preparing for an exhibition, and collaborated extensively with other artists. This particular volume considers his output of artist's books, as well as his exhibition catalogues and all the publications whose content he either created or edited. More than just documentation, this publication makes accessible for a wider public the multiple aspects of Kippenberger's books, with all the complexity and consequence of his oeuvre intact.