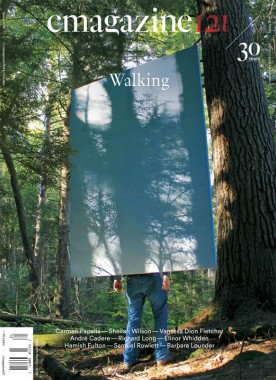 C Magazine 121, Walking
Softcover, 80 pp., offset 4/1, 210 x 295 mm
Edition of 2200
ISSN 1480-5472
Published by C Magazine
$7.50 ·
C Magazine Issue 121 "Walking" includes features "On Speculative Walking: From the Peripatetic to the Peristaltic" by Randy Lee Cutler, "Walking Transformed: The Dialogics of Art & Walking" by Simon Pope, "Sissy Boys on YouTube: Notes Towards a Cultural History of Online Queer Childhood" by Jon Davies, "The Walk Exchange: Pedagogy and Pedestrianism" an Interview with Moira Williams by Earl Miller and "Walking with Artists" edited by Eugenia Kisin and Amish Morrell; plus an artist project by Sheilah Wilson with text by Stephen Horne, and our regular sections On Writing, Exhibition Reviews, Book Reviews and Artefact.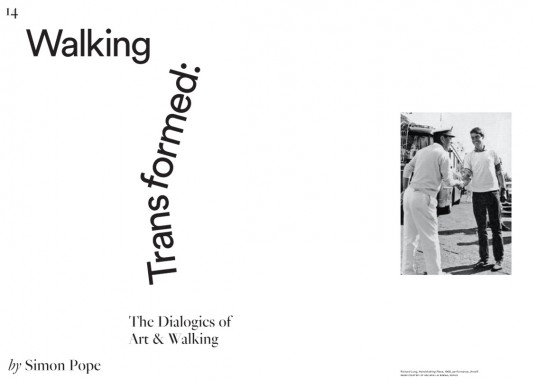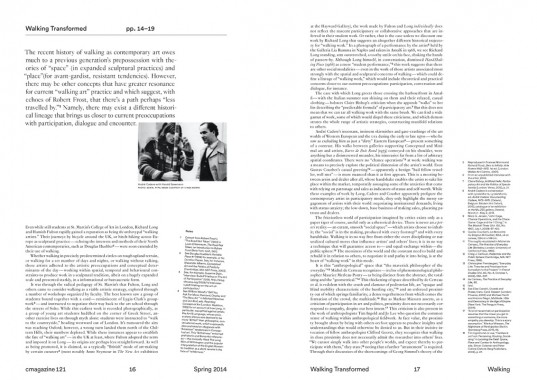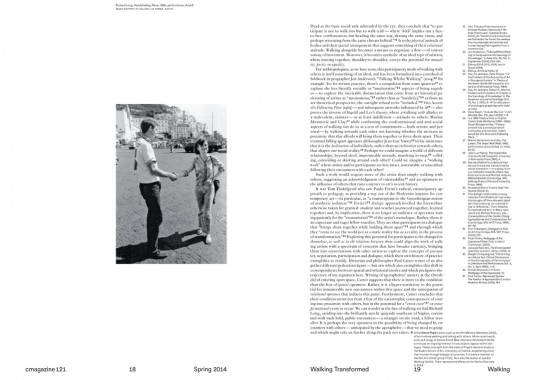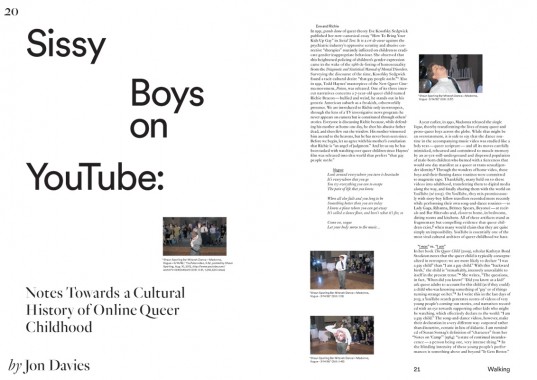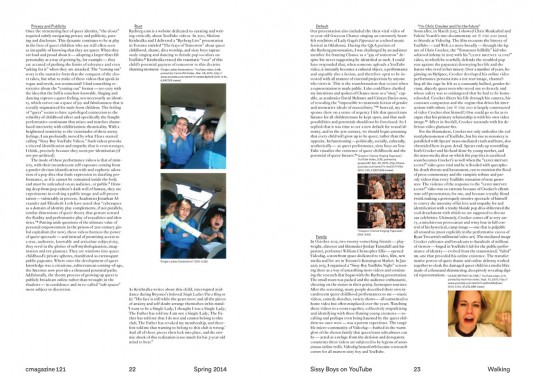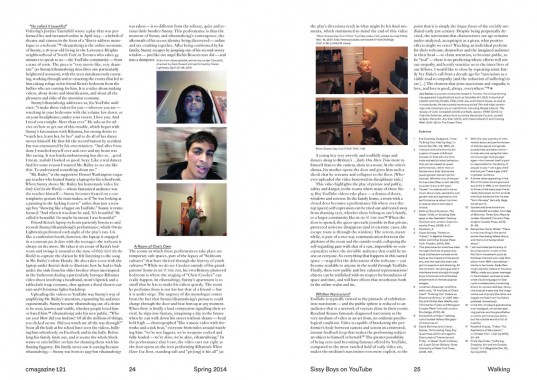 fillip 16
Softcover, 136 pp., offset [split fountain], 170 x 245 mm
Softcover, 32 pp., offset 1/1, 140 x 210 mm [Ariella Azoulay booklet]
Edition of 2500
ISSN 1715-3212
ISBN 978-0-9868326-6-6
ISBN 979-0-9868326-8-0 [Ariella Azoulay booklet]
Published by Fillip
$15.00 ·
Fillip is a publication of art, culture, and ideas released three times a year.
Fillip 16 continues the ongoing series of texts entitled Apparatus, Capture, Trace, and includes a booklet by Ariella Azoulay, Different Ways Not to Say Deportation.
The issue also continues essays from the Intangible Economies series, and focuses on the multifarious forms of exchange fueled by affect and desire. Intangible Economies speculatively investigates the fundamental role these affective transactions play in modes of representation and, accordingly, in cultural production.
1. Patricia Reed, Co-autonomous Ethics and the Production of Misunderstanding
2. Ola El-Khalidi and Diala Khasawnih, Gastronomica Makan
3. Christopher Cozier and Clair Tancons, No More than a Backyard on a Small Island
4. Vincent Bonin, Here, Bad News Always Arrives Too Late
5. Jon Davies, The Masculine Mystique
6. Philip Monk, Crises (and Coping) in the Work of General Idea
7. David Horvitz and Adam Katz, Occupy Wall Street Life Drawing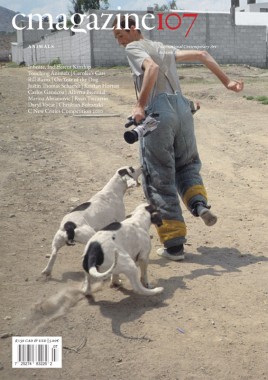 C Magazine 107, Animals
Softcover, 64 pp., offset 4/1, 210 x 295 mm
Edition of 2000
ISSN 1480-5472
Published by C Magazine
$7.50 ·
Issue 107 includes feature essays by Carla Benzan, on Carolee Schneemann's cats; Karen Houle, on ethics and animal kinship; Jon Davies, on Mike White's film, Year of the Dog; and Helena Reckitt, writing about human/non-human animal relationships; book and exhibition reviews from Calgary, the Alberta Biennial in Edmonton, Dublin, Halifax, Montreal, New York, Paris, Peterborough, Toronto, the winning entry for the 2010 New Critics Competition from Minneapolis; and an artist project by Bill Burns, with an essay by Gentiane Bélanger.