C Magazine 119, Residencies
Softcover, 64 pp., offset 4/1, 210 x 295 mm
Edition of 2200
ISSN 1480-5472
Published by C Magazine
$7.50 ·
Issue 119 includes feature essays by Laura Kenins on "Escapists and Jet-Setters: Residencies and Sustainability", Stephanie Springgay on "The Pedagogical Impulse: Aberrant Residencies and Classroom Ecologies," and Randy Lee Cutler on the 55th Venice Biennale, as well as Sky Goodden in conversation with Wanda Koop and an interview by Amish Morrell with Shinobu Akimoto and Matthew Evans. C119 also includes an artist project by the Nomadic Residency Council and the collaborative project "love takes the worry out of being close: public assemblies in bed with queers"; book reviews and reviews of exhibitions by Kara Uzelman, Sara Angelucci, David Askevold, Bernadette Corporation and more.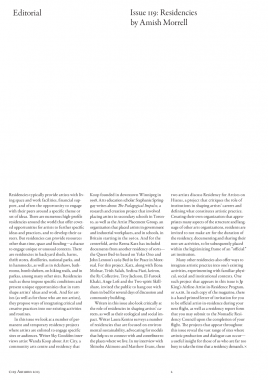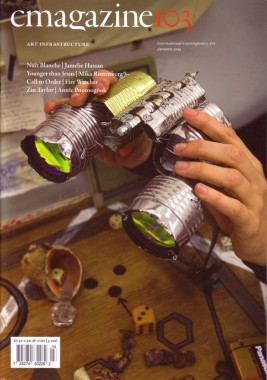 C Magazine 103, Art Infrastructure
Softcover, 60 pp., offset 4/1, 210 x 295 mm
Edition of 2000
ISSN 1480-5472
Published by C Magazine
$7.50 ·
Issue 103 includes feature essays by Joseph Banh on Nuit Blanche, Jesse Birch on Vancouver's domestic interventions, Jen Hutton on democratizing exhibition spaces, and Deborah Root on Jamelie Hassan; with book and exhibition reviews from Paris, New York, Montreal and Toronto; artist projects by Kathleen and James B. Maxwell, and Kara Uzelman.
C Magazine publishes thought-provoking and innovative essays, reviews and projects by both new and established writers and artists. Providing contemporary perspectives on work from sculpture, painting and film, to performance art, digital media, social practice, site-specific art and installation, C is widely recognized as an essential platform for critical debate about contemporary art. Based in Toronto, with contributors around the world, C has provided critically engaged coverage of contemporary art practices in Canada and internationally for 25 years.