C Magazine 112, Exhibition Practices
Softcover, 62 pp., offset 4/1, 210 x 295 mm
Edition of 2200
ISSN 1480-5472
Published by C Magazine
$7.50 ·
Issue 112,
Exhibition Practices
, include Jesse Birch,
A Sea of Contingencies: Durational Projects
, on Sabine Bitter and Helmut Weber's
A Sign for the City
and Cate Rimmer's curatorial project,
The Voyage, or Three Years at Sea
; Philip Monk,
Some Like it Haute
, on the General Idea Retrospective at the Art Gallery of Ontario; Caroline Seck Langill,
Me Calling Him — Him Calling Me
, on Tom Sherman's recent video work; Denise Frimer,
Paris/Ojibwa
, an interview with Robert Houle; and Tatiana Mellema,
New Experiments in Communal Living
, looking at projects including the
La Commune
.
Exhibition reviews include Taryn Simon: A Living Man Declared Dead and Other Chapters, at the Tate Modern; Art Ex 2011, in Grand Falls-Windsor, NFLD; Pavillon levé (dix jours à vaincre les mortes-eaux), at Circa Gallery, Montreal; The Normal Condition of Any Communication, at TPW in Toronto; Gwen MacGregor and Sandra Rechico: Backtrack, at A trans Pavilion, Berlin; The Art of Eating, at CX Catalunya Caixa Obra Social, La Pedrera, Barcelona; Louise Bourgeois: El Retorno de lo Reprimido, Fundación Proa, Buenos Aires; Haven't We Been Here Before?, at Platform Centre for Photographic + Digital Arts, Winnipeg; New Photography 2011, at the Museum of Modern Art, New York; and Carl Beam: The Poetics of Being, at the National Gallery of Canada, Ottawa. Also included in issue 112 are book reviews and an artist project by Alex Wolfson.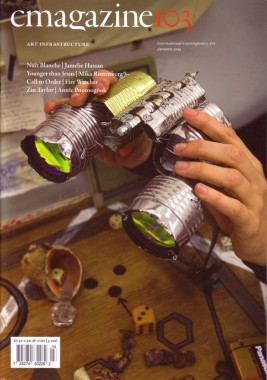 C Magazine 103, Art Infrastructure
Softcover, 60 pp., offset 4/1, 210 x 295 mm
Edition of 2000
ISSN 1480-5472
Published by C Magazine
$7.50 ·
Issue 103 includes feature essays by Joseph Banh on Nuit Blanche, Jesse Birch on Vancouver's domestic interventions, Jen Hutton on democratizing exhibition spaces, and Deborah Root on Jamelie Hassan; with book and exhibition reviews from Paris, New York, Montreal and Toronto; artist projects by Kathleen and James B. Maxwell, and Kara Uzelman.
C Magazine publishes thought-provoking and innovative essays, reviews and projects by both new and established writers and artists. Providing contemporary perspectives on work from sculpture, painting and film, to performance art, digital media, social practice, site-specific art and installation, C is widely recognized as an essential platform for critical debate about contemporary art. Based in Toronto, with contributors around the world, C has provided critically engaged coverage of contemporary art practices in Canada and internationally for 25 years.