C Magazine 119, Residencies
Softcover, 64 pp., offset 4/1, 210 x 295 mm
Edition of 2200
ISSN 1480-5472
Published by C Magazine
$7.50 ·
Issue 119 includes feature essays by Laura Kenins on "Escapists and Jet-Setters: Residencies and Sustainability", Stephanie Springgay on "The Pedagogical Impulse: Aberrant Residencies and Classroom Ecologies," and Randy Lee Cutler on the 55th Venice Biennale, as well as Sky Goodden in conversation with Wanda Koop and an interview by Amish Morrell with Shinobu Akimoto and Matthew Evans. C119 also includes an artist project by the Nomadic Residency Council and the collaborative project "love takes the worry out of being close: public assemblies in bed with queers"; book reviews and reviews of exhibitions by Kara Uzelman, Sara Angelucci, David Askevold, Bernadette Corporation and more.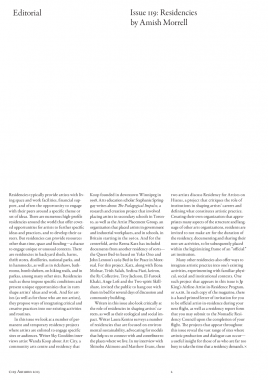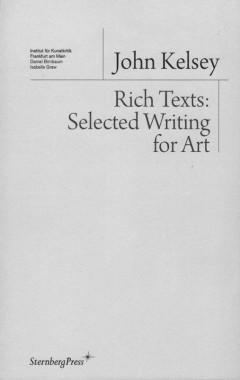 John Kelsey, Rich Texts: Selected Writing for Art
Softcover, 248 pp., offset 2/1, 120 x 190 mm
Edition of 2000
ISBN 978-1-934105-23-8
Published by Sternberg Press
$20.00 · out of stock
Compiled for the first time here, essays by American critic, artist, gallerist and dealer John Kelsey convey some of the most poignant challenges in the art world and in the many social roles it creates. "When the critic chooses to become a smuggler, a hack, a cook, or an artist," Kelsey said, "it's maybe because criticism as such remains tied to an outmoded social relation." Kelsey's "rich texts" play the double role of explaining the art world and actively participating in it; they close the distance between the work of art and how we talk about it. These playful, elegant writings — many originally published in Artforum — embody a timelessness that strikes at the core of the contemporary art world. The newest edition from the terrific Institut fur Kunstkritik series.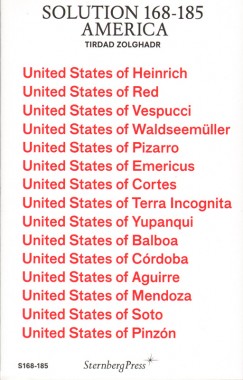 Tirdad Zolghadr, Solution 168-185: America
Softcover, 112 pp., offset 2/1, 110 x 180 mm
Edition of 2000
ISBN 978-1-933128-90-0
Published by Sternberg Press
$19.00 ·
Solution 168–185: America is the fourth book in the Solution series. Opting for the United States of America, "still the most proficiently colonial place I know," Zolghadr provides a compilation of highly entertaining "solutions," where the objective is not the education of America so much as the pleasure of a text that purports to be just that. Tirdad Zolghadr is a writer/curator based in Berlin. He is editor-at-large for Cabinet magazine. He organized the United Arab Emirates pavilion, Venice Biennale 2009, and the long-term project Lapdogs of the Bourgeoisie (with Nav Haq). Zolghadr teaches at the Center for Curatorial Studies, Bard College.