C Magazine 119, Residencies
Softcover, 64 pp., offset 4/1, 210 x 295 mm
Edition of 2200
ISSN 1480-5472
Published by C Magazine
$7.50 ·
Issue 119 includes feature essays by Laura Kenins on "Escapists and Jet-Setters: Residencies and Sustainability", Stephanie Springgay on "The Pedagogical Impulse: Aberrant Residencies and Classroom Ecologies," and Randy Lee Cutler on the 55th Venice Biennale, as well as Sky Goodden in conversation with Wanda Koop and an interview by Amish Morrell with Shinobu Akimoto and Matthew Evans. C119 also includes an artist project by the Nomadic Residency Council and the collaborative project "love takes the worry out of being close: public assemblies in bed with queers"; book reviews and reviews of exhibitions by Kara Uzelman, Sara Angelucci, David Askevold, Bernadette Corporation and more.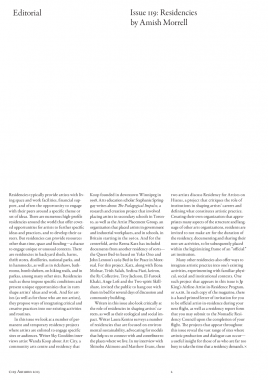 C Magazine 116, Collections
Softcover, 64 pp., offset 4/1, 210 x 295 mm
Edition of 2200
ISSN 1480-5472
Published by C Magazine
$7.50 ·
Issue 116, Collections, features essays by Steve Lyons on Ivan Moudov's Museum in Fragments; Laura Kenins looking at Electronic Waste as Collection through the work of Laura Kikauka and Gordon Monahan, Eleanor King and Artifact Institute; Randy Gladman on the Art Collection of Alison and Alan Schwartz; Shannon d'Avout on Walid Raad and Artist Pension Trust; Anna-Sophie Springer on The Book as Exhibition, as well as an artist project by Charles Stankievech with an accompanying essay by Pandora Syperek. C Magazine 116 also includes reviews of exhibitions by Yuji Agematsu, Morgan Fisher, Raymond Boisjoly, Ian Baxter and Derek Liddington, as well as group exhibitions Emotional Blackmail at Kitchener-Waterloo Art Gallery, Wavelengths & Future Projections at the Toronto International Film Festival, Where is the Time at Foundation Izolyatsia in Ukraine, Sounding Selves at Dalhousie University Art Gallery, and Only Birds Sing the Music of Heaven in this World at the Museum of Craft and Folk Art.