C Magazine 119, Residencies
Softcover, 64 pp., offset 4/1, 210 x 295 mm
Edition of 2200
ISSN 1480-5472
Published by C Magazine
$7.50 ·
Issue 119 includes feature essays by Laura Kenins on "Escapists and Jet-Setters: Residencies and Sustainability", Stephanie Springgay on "The Pedagogical Impulse: Aberrant Residencies and Classroom Ecologies," and Randy Lee Cutler on the 55th Venice Biennale, as well as Sky Goodden in conversation with Wanda Koop and an interview by Amish Morrell with Shinobu Akimoto and Matthew Evans. C119 also includes an artist project by the Nomadic Residency Council and the collaborative project "love takes the worry out of being close: public assemblies in bed with queers"; book reviews and reviews of exhibitions by Kara Uzelman, Sara Angelucci, David Askevold, Bernadette Corporation and more.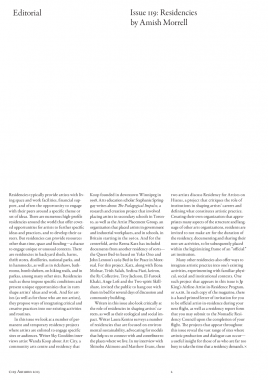 C Magazine 118, Criticism
Softcover, 60 pp., offset 4/1, 210 x 295 mm
Edition of 2200
ISSN 1480-5472
Published by C Magazine
$7.50 ·
Issue 118 includes feature essays by Adam Lauder on "Sensitivity Information", Charlene Lau on "Problems in the Evaluation of Contemporary Art", Stephen Horne on the "Doing(s) of Art Criticism", Ben Davis on "Surviving the Crisis", and Peta Rake on "Private Acts: Note taking in the Margins of Art Criticism", as well as Sky Goodden in conversation with Dave Hickey.
Artist Projects include Dave Dyment's Old Man Deciphering a Briefcase, and Charmaine Wheatley's The Painting is Better.
Also, in this issue, reviews from across Canada and around the globe: Rose Bouthillier on Julia Dault, Jessica Bradley Annex, Toronto; Heather White on Jimmy Limit: Show Room, Clint Roenisch Gallery, Toronto; Shannon Anderson on Volume: Hear Here, Blackwood Gallery, Mississauga; Kyla Brown on Peter Dykhuis: Inventories & Micro-mapping, Red Head Gallery, Toronto; Vanessa Parent: Invisible Violence, Artspeak, Vancouver; Gloria Hickey on Philippa Jones: MIRIAD, The Rooms Provincial Art Gallery, St. John's; Jane Affleck on Position As Desired, Canadian Museum of Immigration at Pier 21, Halifax; Daniella E. Sanader on Manuela Lalic: Activisme timide, Optica, Montreal; Jill Gleesing This Will Have Been: Art, Love & Politics in the 1980's, Institute of Contemporary Art, Boston; Jen Hutton on Jordan Wolfson: Raspberry Poser, REDCAT, Los Angeles; and Michael Davidge on Robert Tombs: L'Occupation, ParisCONCRET, Paris.
C118 also includes book reviews of The Last Art College: Nova Scotia College of Art and Design, 1968-1978, review by Leah Modigliani; West of Center: Art and the Counterculture Experiment in America, 1965-1977, review by Felicity Tayler; and Work Work Work: A Reader on Art and Labour, review by Amber Landgraff.