C Magazine 117, Translations
Softcover, 60 pp., offset 4/1, 210 x 295 mm
Edition of 2200
ISSN 1480-5472
Published by C Magazine
$7.50 ·
"Who has time for cynicism? If there is one role model in handling implication it is Jackie Chan…. At moments it's all flying in his face but look at how he suddenly realigns the whole mess into a landfill art piece."
— Hito Styerl
Issue 117 includes feature essays by Kristin Campbell, on the work of Kristiina Lahde, Diana Sherlock on the conference "Institutions by Artists," Ania Wroblewski on the exhibition Feminism after Elles, as well as Patricia Reed in conversation with Hito Steyerl and Jacquelyn Ross in conversation with Tiziana La Melia.
Also, in this issue, reviews from across Canada and around with globe: Sean Alward: A Vertical City Goes Both Ways, Vancouver; Kika Thorne: The wildcraft, Windsor; Vanessa Maltese: Two-fold Tally, Toronto;, Archival Dialogues: Reading the Black Star Collection, Toronto; Michèle Provost: Rebranding Bytown, Ottawa; Nicolas Grenier: Proximities, Montreal; Rick Leong: The Sublimation of Self, Halifax; Hazel Meyer: Walls to the Ball, St. Johns; XTRAVAGANZA: Staging Leigh Bowery, Vienna; Roman Liška: Nu Balance, London; and A New Novel by Bjarne Melgaard, New York. C117 includes book reviews of One for Me and One to Share: Artists' Multiples and Editions, edited by Dave Dyment and Gregory Elgstrand; Open! Key Texts, 2004–2012: Art, Culture and the Public Domain, edited by Jorinde Seijdel and Liesbeth Melis; Disturbances, by Critical Art Ensemble; and Summer of Hate, by Chris Kraus.
Artist Projects include FAG's (Feminist Art Gallery) Faging it Forward, and Christopher Kulendran Thomas' When Platitudes Become Form.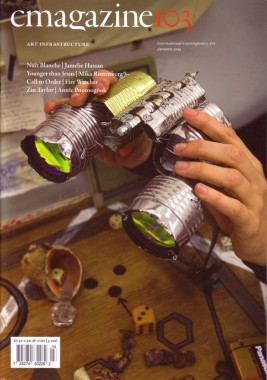 C Magazine 103, Art Infrastructure
Softcover, 60 pp., offset 4/1, 210 x 295 mm
Edition of 2000
ISSN 1480-5472
Published by C Magazine
$7.50 ·
Issue 103 includes feature essays by Joseph Banh on Nuit Blanche, Jesse Birch on Vancouver's domestic interventions, Jen Hutton on democratizing exhibition spaces, and Deborah Root on Jamelie Hassan; with book and exhibition reviews from Paris, New York, Montreal and Toronto; artist projects by Kathleen and James B. Maxwell, and Kara Uzelman.
C Magazine publishes thought-provoking and innovative essays, reviews and projects by both new and established writers and artists. Providing contemporary perspectives on work from sculpture, painting and film, to performance art, digital media, social practice, site-specific art and installation, C is widely recognized as an essential platform for critical debate about contemporary art. Based in Toronto, with contributors around the world, C has provided critically engaged coverage of contemporary art practices in Canada and internationally for 25 years.