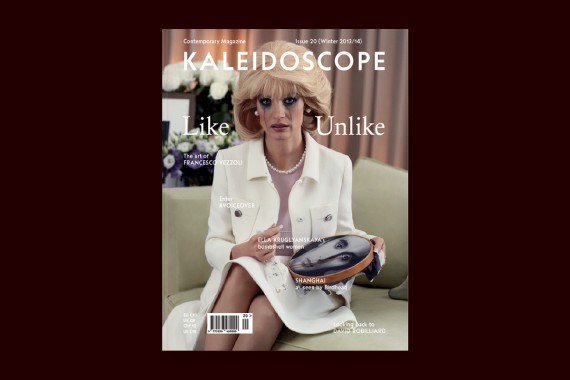 KALEIDOSCOPE Magazine 20 — Winter 2014
Softcover, 242 pp. + three special inserts, offset 4/4, 220 x 287 mm
English edition
ISSN 2038-4807
Published by KALEIDOSCOPE Press
$18.00 ·
The opening section of HIGHLIGHTS features Latvian-born painter Ella Kruglyanskaya (words by Chris Sharp); Danish performer Christian Falsnaes (interview by Raimar Stange); American painter Ned Vena (words by Mathieu Malouf); British artist Haroon Mirza (interview by Thom O'Nions); and Berlin-based Loretta Fahrenholtz (words by Michele D'Aurizio).
Edited by Kaleidoscope's editor-in-chief Alessio Ascari and entitled #VOICEOVER, the MAIN THEME section is dedicated to the deployment of off-camera commentary as a conceptual device in moving image works. The survey presents an overview by Shama Khanna on a new generation of artists, including Ed Atkins, Camille Henrot, Pilvi Takala, Duncan Campbell and Laure Prouvost; a case study by Pablo Larios on Jordan Wolfson; an essay by Marie de Brugerolle on French filmmakers Chris Marker and Jean-Luc Godard; and a conversation between Oliver Laric and George Vasey on voiceover in the pop realm.
Riding the edge of contemporary art and show business, the controversial work of Francesco Vezzoli, our cover story and the subject of the MONO section, occupies a schizophrenic space between pop and conceptualism, high and low, cynicism and criticality. The section comprises an essay by Andrea Viliani, an interview by Kevin McGarry, and a visual project specially created by the artist based on Grindr profiles. 
A selection of videos featured in the Mono and Main Theme sections will be soon available to watch on KALEIDOSCOPE Videoclub, our new online channel of video exhibitions. Stay tuned!
Lastly, this issue's section of REGULARS features Hans Ulrich Obrist introducing Swiss artist Kaspar Müller; Carson Chan meeting young global curator Simon Castets; Davide Quadrio reporting on the art scene in Shanghai, in conversation with local duo Birdhead; Fredi Fischli and Niels Olsen rediscovering the art of Chicago artist Christina Ramberg in conversation with Albert Oehlen; and Matthew Erickson inaugurating a new series of articles focused on single art works, Close-up, with an in-depth look at Matthew Barney's latest project, River of Fundament.
The issue is enriched by our seasonal TIPS on following, reading, listening, stopping by, meeting and visiting; as well as by three SPECIAL INSERTS by Belgian collective Leo Gabin, British maverick David Robilliard and Japanese legendary illustrator Hajime Sorayama.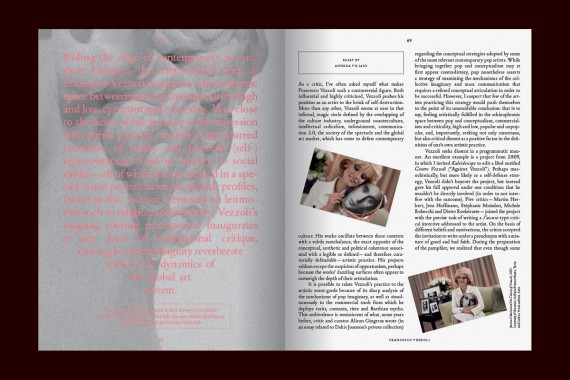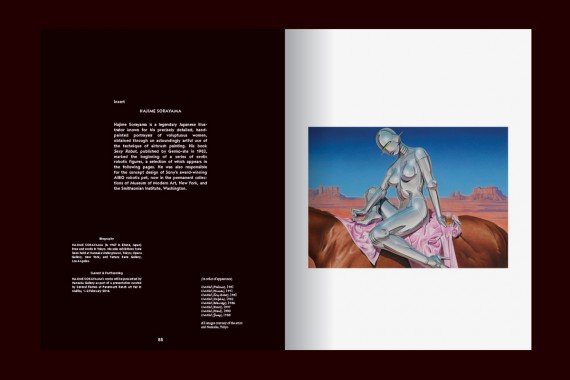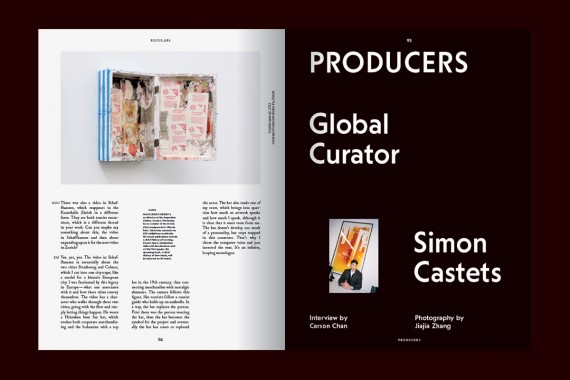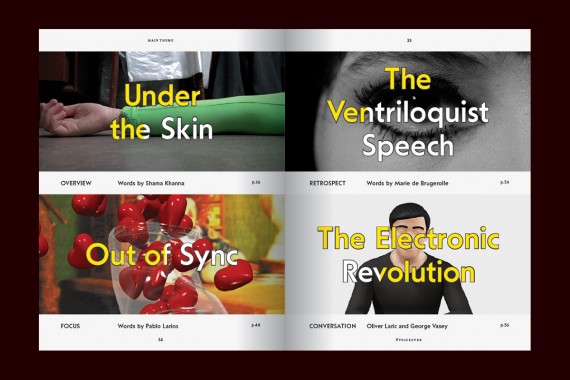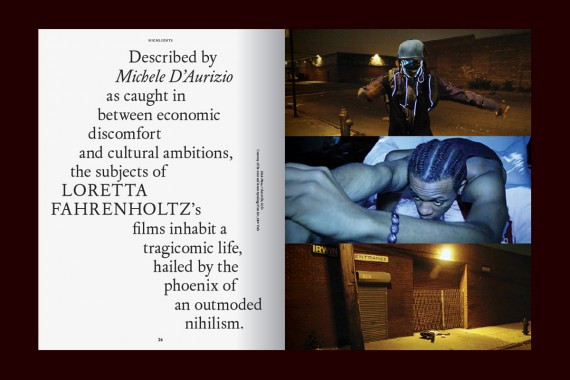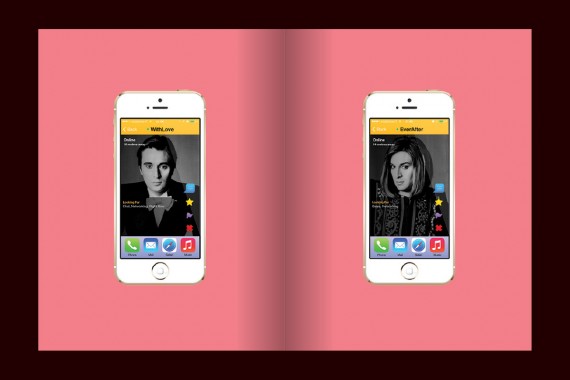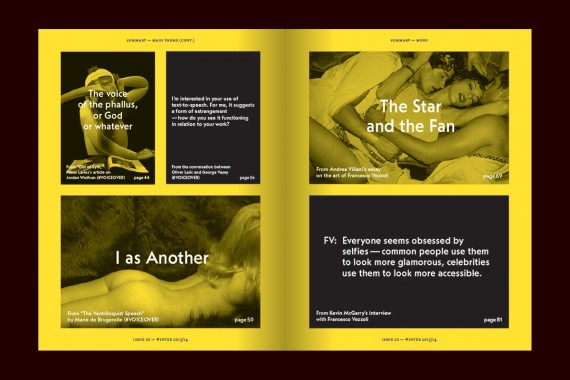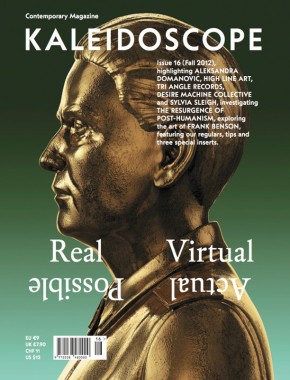 KALEIDOSCOPE Magazine 16 — Fall 2012
Softcover, 210 pp. + Ken Price Drawings insert, offset 4/4, 220 x 287 mm
ISSN 2038-4807
Published by KALEIDOSCOPE Press
$12.00 ·
At the core of a platform that includes an exhibition space and an independent publishing house, KALEIDOSCOPE is an international quarterly of contemporary art and culture founded in 2009 in Milan. Distributed worldwide on a seasonal basis, it has gained widespread recognition as a trusted and timely guide to the present (but also to the past and possible futures), unique in its interdisciplinary and unconventional approach.
HIGHLIGHTS
This issue's opening section features Aleksandra Domanovic, whose videos and sculptures are seen by Pablo Larios as embodiments of the perpetually productive disunion of politics and art; the ambitious public art program of New York's High Line, described by Piper Marshall as one that confronts artists with many challenges; the record label Tri Angle, whose founder Robin Carolan talks to Ruth Saxelby about how to embody the zeitgeist of electronic music; the Indian duo Desire Machine Collective, who discuss with Sandhini Poddar and Ulrich Baer about mapping an experimental history of colonization; and American painter Sylvia Sleigh, whose elusive politics is contrasted by Joanna Fiduccia to the detailed realism of her portraits.
MAIN THEME
The blend of cybernetics and underground culture realized in the symbolic and mythological repertoire of Cyberpunk continues to inspire sci-fi narratives and permeate the arts, reinforcing its status as a powerful aesthetic. This issue examines the emergence of an art that addresses the processes of mechanization, desexualisation and reification of the human body, and how they relate to questions of identity, morality and fantasy. Featured contributions include Michele D'Aurizio's overview of the work of a new generation of artists; Karen Archey's analysis of the work of Canadian artist David Altmejd; a discussion between Brody Condon and Jason Brown coordinated by DIS magazine; and a conversation between young artist Timur Si-Qin and influential philosopher Manuel De Landa.
MONO
Comprising an essay by Alessandro Rabottini, an interview by Matt Keegan and a photographic portrait by Grant Willing, this issue's MONO is devoted to American artist Frank Benson, whose work rides the dialectic between the space of the photographic image and the space of sculpture. Evoking celebrated artists like Charles Ray, Jeff Koons and Robert Gober, Benson uses the latest technology available and yet imbues the sculptural process with a profound understanding of physical materiality — making works that oscillate between analogue and digital, solidity and suspension, humor and elegance.
REGULARS
Hans Ulrich Obrist interviews the New York-based provocateur Liz Magic Laser; Dorothée Dupuis introduces the hidden life of Marseille; Luca Cerizza analyzes the emotional topography of Alberto Garutti; and Carson Chan meets the DAAD's visual arts director Ariane Beyn. The edition is enriched by our seasonal tips on following, reading, listening, stopping by, meeting and visiting; as well as by three special inserts — drawings by Ken Price, stickers by Alistair Frost and images by Alistair Frost.