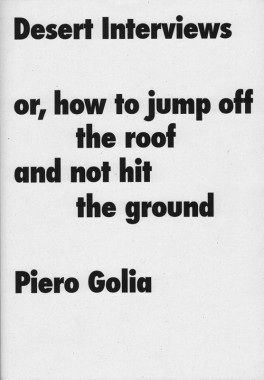 Piero Golia, Desert Interviews or, how to jump off the roof and not hit the ground
Softcover, 100 pp., offset 4/1, 148 x 210 mm
Edition of 2000
ISBN 978-3-03764-106-4
Published by JRP|Ringier
$28.00 ·
Piero Golia founded in 2005, with his long-time friend Eric Wesley, the Mountain School of Arts, an educational structure that rapidly became a new spot on the cultural map of the city of Los Angeles.
This book, composed of discussions between artists, presents a kind of report on this unique "institution:" teaching methods, academic syllabus, and students' selection are here explained with metaphors, compared with artistic interaction, and equaled to performances. Not unlike Golia's work itself, the development of the school and its program follow a poetic of the gesture, of the instant, and of actions recalling Fluxus, Gino de Dominicis' or Paul McCarthy's works.
As a career's start, Piero Golia successfully convinced a woman to have his portrait and the words "Piero My Idol" tattooed on her back (tattoo, 2001); soon after, following an invitation to the Tirana Biennale, he rowed across the Adriatic Sea in the opposite direction to migratory movement to reach Albania ("Going to Tirana," 2000). And, on January 14, 2005, Golia vanished from New York City leaving no documented proof of his whereabouts; he traveled from a place to another, crossing borders without a trace, for resurfacing only on the morning of February 7 at the Royal Academy of Arts in Copenhagen for a unique lecture about his adventurous trip. He now lives in Los Angeles, a place that blurs the boundaries between reality and fiction, making it the perfect setting for his exploration into the process of myth-making and his ironic outlook on contemporary society.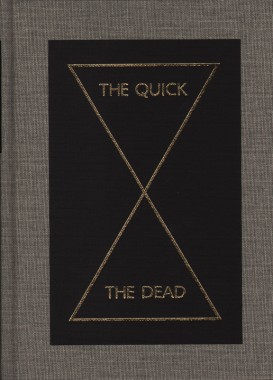 Peter Eleey, The Quick and the Dead
Hardcover, 352 pp., offset 4/1, 6.75 x 9 inches
Edition of 2000
ISBN 9780935640939
Published by Walker Art Center
$45.00 ·
Artists have always used their imaginations to see beyond visible matter — to posit other physics, other energies, new ways of conceiving the visible and new models for art — but the past century has seen an explosion of such investigations. In the fashion of a Wunderkammer, The Quick and the Dead takes stock of the 1960s and 70s legacy of experimental, or "research" art by pioneers like George Brecht, who posited objects as motionless events and asked us to consider "an art verging on the non-existent, dissolving into other dimensions," and Lygia Clark, whose foldable sculptures sought to dissolve the boundary between inside and outside, each "a static moment within the cosmological dynamics from which we came and to which we are going." In a series of encounters with art made strange by its expansions, contractions, inversions and implosions in time and space, The Quick and the Dead surveys more than 80 works by a global, multigenerational group of 50 artists, scientists and musicians — among them James Lee Byars, Joseph Beuys, Marcel Duchamp, Harold Edgerton, Ceal Floyer, Felix Gonzalez-Torres, Pierre Huyghe, The Institute for Figuring, Paul Ramirez Jonas, Stephen Kaltenbach, On Kawara, Christine Kozlov, David Lamelas, Louise Lawler, Paul Etienne Lincoln, Mark Manders, Kris Martin, Steve McQueen, Helen Mirra, Catherine Murphy, Bruce Nauman, Rivane Neuenschwander, Claes Oldenburg, Roman Ondák, Adrian Piper, Roman Signer and Shomei Tomatsu, among many others. Includes reprints of texts by diverse luminaries such as John McPhee, Jalal Toufic, Oliver Sacks, Allan Kaprow and Robert Smithson.