C Magazine 108, Money
Softcover, 64 pp., offset 4/1, 210 x 295 mm
Edition of 2200
ISSN 1480-5472
Published by C Magazine
$7.50 ·
C Magazine issue 108
Money
includes an artist project by Abbas Akhavan, where he has inserted a sheet of imitation gold leaf in each of 2,200 copies of C Magazine. Also available are 25 special limited edition magazines with gold leaf, signed and numbered by the artist.
Feature articles in issue 108 include Economies of Faith, by Richard Ibghy and Marilou Lemmens, looking at works by Mark Boulos, Melanie Gilligan and Olivia Plender that explore the relationship between the workings of the market and the spiritual belief, and Documents of Self-Administration: A Conversation with Vincent Bonin, by Adam Lauder, about the exhibition Documentary Protocols at the Leonard & Bina Ellen Gallery. This issue also includes interviews with British artist Spartacus Chetwynd, by David Lillington, and Canadian artist Divya Mehra, by Natasha Bissonauth.
Reviews include Shannon Anderson on Anselm Kiefer's Palmsonntag at the Art Gallery of Ontario; Saelen Twerdy on Projections: Music Video at Musée d'art contemporain de Montréal; Kenneth Hayes on Group ABS at Gallery Siz in Rijeka, Croatia; Vanessa Nicholas on Rivane Neuenschwander's A Day Like Any Other at the New Museum; Heather Diack on Annie MacDonell's Beside the Midnight Lake at Katharine Mulherin Contemporary Art Projects; Rebecca Weisman on Guy Ben-Ner: Thursday the 12th at Mass MoCA; Jill Glessing on Fernando Sánchez Castillo: National Episodes and Óscar Muñoz: Becoming Air at Círculo de Bellas Arte, Madrid; Michael Birchall on the 6th Berlin Biennale; and Evan Webber on Jon McCurley: Fashion Blog — Clothes for President.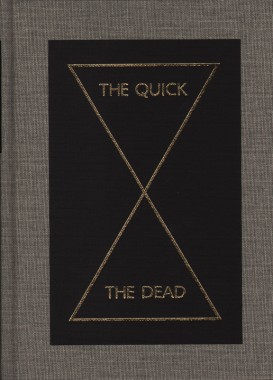 Peter Eleey, The Quick and the Dead
Hardcover, 352 pp., offset 4/1, 6.75 x 9 inches
Edition of 2000
ISBN 9780935640939
Published by Walker Art Center
$45.00 ·
Artists have always used their imaginations to see beyond visible matter — to posit other physics, other energies, new ways of conceiving the visible and new models for art — but the past century has seen an explosion of such investigations. In the fashion of a Wunderkammer, The Quick and the Dead takes stock of the 1960s and 70s legacy of experimental, or "research" art by pioneers like George Brecht, who posited objects as motionless events and asked us to consider "an art verging on the non-existent, dissolving into other dimensions," and Lygia Clark, whose foldable sculptures sought to dissolve the boundary between inside and outside, each "a static moment within the cosmological dynamics from which we came and to which we are going." In a series of encounters with art made strange by its expansions, contractions, inversions and implosions in time and space, The Quick and the Dead surveys more than 80 works by a global, multigenerational group of 50 artists, scientists and musicians — among them James Lee Byars, Joseph Beuys, Marcel Duchamp, Harold Edgerton, Ceal Floyer, Felix Gonzalez-Torres, Pierre Huyghe, The Institute for Figuring, Paul Ramirez Jonas, Stephen Kaltenbach, On Kawara, Christine Kozlov, David Lamelas, Louise Lawler, Paul Etienne Lincoln, Mark Manders, Kris Martin, Steve McQueen, Helen Mirra, Catherine Murphy, Bruce Nauman, Rivane Neuenschwander, Claes Oldenburg, Roman Ondák, Adrian Piper, Roman Signer and Shomei Tomatsu, among many others. Includes reprints of texts by diverse luminaries such as John McPhee, Jalal Toufic, Oliver Sacks, Allan Kaprow and Robert Smithson.