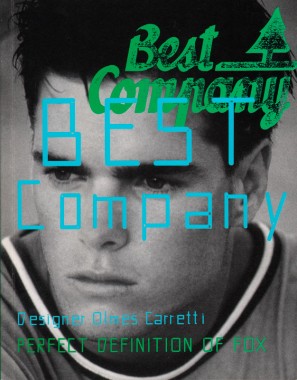 Olmes Carretti, Best Company
Softcover, 120 pp., offset 1/1, 195 x 250 mm
Edition of 1000
ISBN 978-3-940215-00-0
Published by Passenger Books
$29.00 ·
Designer Olmes Carretti
Perfect Definition of a Fox
As vintage couture clothing becomes more and more collectible, the next step is no surprise: collectible sweatshirts. Specifically, the incredibly beautiful, heavy-duty "high-school sweats" from Best Company in the 1980s, designed by Italian designer Olmes Carretti. Decorated with motifs derived from nature and sports, based on precise natural studies and drawings, these high-quality sweatshirts are deeply appreciated for their design artistry. Graphic design wizards Vier5 visited Carretti at his home in Reggio Emilia and created this absorbing book, including dazzling photos documenting individual shirts, explanatory texts and interviews with the designer. Best Company closed almost 20 years ago, and it has since achieved cult status: this book shows why.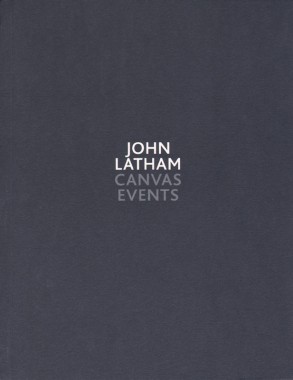 John Latham, Canvas Events
Softcover, 24 pp., offset 4/1, 215 x 275 mm
Edition of 1000
ISBN 978-1-905464-31-9
Published by Ridinghouse
$22.00 ·
Published on the occasion of the exhibition
John Latham, Canvas Events
at Karsten Schubert / Richard Saltoun
5 May — 11 June 2010
This small but impeccably produced catalog introduces a never-before-exhibited series of works by the late British artist John Latham (1921-2006). The 1994 works called, Canvas Events, features spray-painted and twisted canvas on wooden stretchers. The works challenge the conventional relationship between canvas and stretcher, turning the traditional site of the painting into a sculptural field. Latham often worked with spray paint; he often described the dotted sprinkled result as miniature universes. Reproductions of the 1994 Canvas Events are accompanied by a conversation between Latham, Hans Ulrich Obrist and Barbara Steveni, in which they discuss the artist's work over time.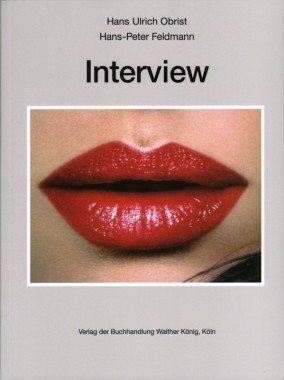 Hans Ulrich Obrist and Hans-Peter Feldmann, Interview
Softcover, 130 pp., offset 4/1, 165 x 220 mm
English and German
Edition of 2000
ISBN 978-3-86560-660-0
Published by Walther König
$49.00 ·
Hans Ulrich Obrist and Hans-Peter Feldmann, who have known each other for around 20 years, talked about the possibility of an interview for quite some time. They finally decided that Obrist pose the questions in writing, and Feldmann answer each of them with a picture.