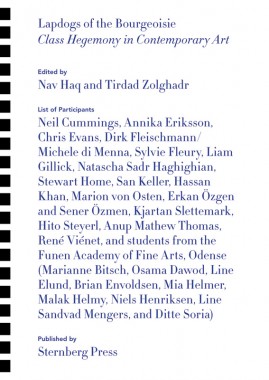 Nav Haq and Tirdad Zolghadr, Lapdogs of the Bourgeoisie
Softcover, 180 pp., offset 4/1, 170 x 240 mm
Edition of 2000
ISBN 978-1-933128-88-7
Published by Sternberg Press
$25.00 ·
Class inevitably raises awkward questions for the protagonists of contemporary art — about their backgrounds, patrons and ideological proclivities. Lapdogs of the Bourgeoisie investigates this latent yet easily overlooked issue, which has been historically eclipsed by gender, sexuality, ethnicity and nationality. This book creates a conversation on a sensitive subject, bringing together essays by art-world types including artists, curators and critics. On one hand, the ideas here raise the question of whether a given socio-economic background still helps define an artistic career — and to which point this career might reflect or consolidate the hierarchies in question. On the other hand, the project asks whether the traditional ways of analyzing class structure are actually helpful in an examination of who makes art today.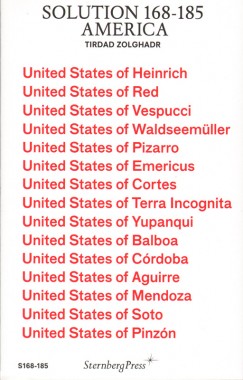 Tirdad Zolghadr, Solution 168-185: America
Softcover, 112 pp., offset 2/1, 110 x 180 mm
Edition of 2000
ISBN 978-1-933128-90-0
Published by Sternberg Press
$19.00 ·
Solution 168–185: America is the fourth book in the Solution series. Opting for the United States of America, "still the most proficiently colonial place I know," Zolghadr provides a compilation of highly entertaining "solutions," where the objective is not the education of America so much as the pleasure of a text that purports to be just that. Tirdad Zolghadr is a writer/curator based in Berlin. He is editor-at-large for Cabinet magazine. He organized the United Arab Emirates pavilion, Venice Biennale 2009, and the long-term project Lapdogs of the Bourgeoisie (with Nav Haq). Zolghadr teaches at the Center for Curatorial Studies, Bard College.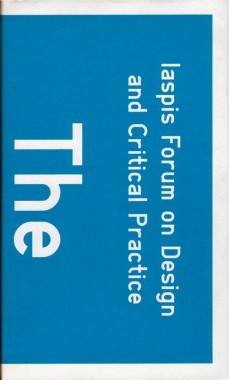 Iaspis Forum on Design and Critical Practice — The Reader
Softcover, 445 pp., offset 4/1, 125 x 210 mm
English and Swedish
Edition of 1000
ISBN 978-1-933128-63-4
Published by Sternberg Press and Iaspis
$25.00 · out of stock
What happens when you look at design as something more than a service-based relationship between client and designer? What new strategies and models help to question and challenge the limits of design? The second publication from the Swedish design think-tank Iaspis, this idea-packed reader focuses on investigative, speculative, and critically oriented design, especially how design relates to architecture. Inspired by an exhibition produced by the Architectural Association in London, the reader is based on four conversations between graphic designers about various aspects of design relating to their practices. It also contains a number of interviews and other texts linked to these conversations, and a broader discussion about design and transboundary practice.